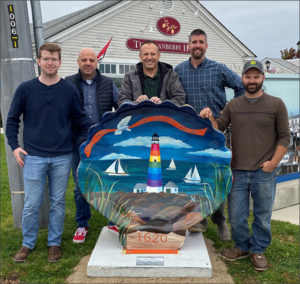 Flexo Concepts recently joined 29 other area businesses participating in the latest Plymouth Area Chamber of Commerce street-side art project – "The Scallop Roll." Part of a celebration to commemorate our country's upcoming 400-year anniversary, the project features a collection of large, fiberglass scallop-shaped forms about 4 feet tall and 3 feet wide. Company sponsors worked with local artists to come up with design concepts and paint the structures – front and back. The shells have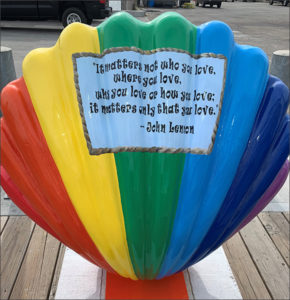 been installed at various locations around the downtown and waterfront areas for residents and visitors to admire, and maps are available to help people make a fun activity out of finding them as they explore the town.
According to the Plymouth Area Chamber of Commerce, "The scallop was selected for this year's campaign because of its symbolism for pilgrimage. Artwork of the shell can even be found on local headstones dating back as early as 1681."
For its design, Flexo Concepts chose a nautical theme radiating a message of acceptance and equality. The front of the shell depicts a seaside display with a rainbow-colored lighthouse at its center. The back features a quote by John Lennon, "It matters not who you love, where you love, why you love or how you love; it matters only that you love."
Anyone visiting the area is encouraged to visit the Plymouth, Massachusetts downtown waterfront to see the shells.