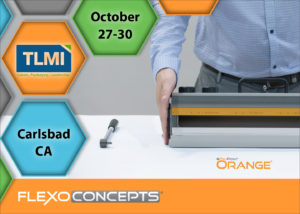 Plymouth, MA, October 21, 2019. TruPoint Orange doctor blades will again be the focus for Flexo Concepts® at TLMI's Annual Meeting in Carlsbad, California.
The TruPoint Orange blade continues to deliver performance and safety advantages as a replacement for steel in narrow web pressrooms. Featuring MicroTip® technology, Orange achieves comparable metering to steel, eliminates UV ink spitting, reduces start-up waste and lowers the frequency of blade changes. Orange is also preferred by printers applying specialty coatings and abrasive formulas for its effectiveness and durability.
Visit Flexo Concepts' table at the event to learn more about TruPoint Orange and find out why more equipment manufacturers are shipping the blade standard with new installations. Kevin McLaughlin will be available to answer questions and handing out blade samples.
For more information, go to www.flexoconcepts.com. A complete press kit can be downloaded at www.flexoconcepts.com/media.
About Flexo Concepts
Established in 1988 and headquartered in Plymouth, Massachusetts, Flexo Concepts manufactures TruPoint® doctor blades and MicroClean™ dry media anilox cleaning systems. All products are designed to improve print quality and reduce operational costs for flexographic and offset printers. Flexo Concepts maintains distribution locations in North America, South America, Europe, Asia, Africa and Australia. For more information about the company and its products visit www.flexoconcepts.com. For regular updates, follow Flexo Concepts on Facebook and Twitter.