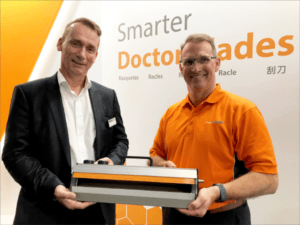 Industry partners TRESU and Flexo Concepts set their sights on boosting flexibility and efficiency in the pressroom. The result: a doctor blade clamping system that allows printers to quickly change between steel and plastic blades to optimize their ink and coating delivery system for effectiveness, efficiency and safety. Two amazing products – the E-Line Chamber Doctor Blade System by TRESU and Flexo Concepts' TruPoint Orange® doctor blade – have been brought together to revolutionize the ink delivery system for today's printers.
The E-Line Chamber Doctor Blade System
TRESU's E-Line Chamber Doctor Blade System has been simplifying and speeding doctor blade changes for steel blade users since 2013. In its spirit of "innovating tomorrow's printing," TRESU designed a simple clamping apparatus that replaces screws with an eccentric rod that can be actuated from the end of the chamber. Printers using the E-Line system no longer have to loosen and tighten multiple screws across the clamp, and blade changes can be completed in a swift two minutes or less.
Growing Demand for Plastic Doctor Blades
Market developments have inspired the introduction of a variety of new ink and coating formulas – UV chemistries, specialty coatings and digital priming solutions to name a few – to enhance the look of packaging and gain press efficiencies. Steel blades are effective when applying water and solvent-based inks, but many printers have problems when using steel to apply these new formulas. Press operators are increasingly finding that plastic blades are superior in these applications.
The NEW TRESU Series XL Blade Holder
The E-Line Chamber Doctor Blade System was originally created for steel doctor blades, and its design limited its use to steel or very thin polyester blades. To address the increasing demand for plastic doctor blades, TRESU worked closely with Flexo Concepts to develop its exclusive Series XL Blade Holder. The interchangeable quick-change clamp apparatus, used with the E-Line System, can accept blades between .02″ or 0.5mm and .04″ or 1mm thick. E-Line users will now have access to a much wider variety of doctor blade options, and printers who prefer plastic blades – whether for safety, blade life or solving problems – can also enjoy its benefits.
Limitations of Steel Doctor Blades
When metering UV chemistries, a steel blade's surface energy and flexibility can prevent a smooth transfer of ink or coating to the plate. The higher-viscosity formulas tend to build up behind the blade and spit onto the web, especially at high press speeds. Inks containing large particulates and specialty coatings such as grit, glitter, dull and satin, and the coarse anilox surfaces used to apply them are also extremely abrasive to steel doctor blades. Blades have to be changed frequently which impacts press running time and blade costs. Fast blade consumption also occurs when steel blades are used to apply digital priming solutions which are highly corrosive to metal. In all of these applications, slivers of a steel blade can break off and cause issues with print quality and anilox scoring.
TruPoint Orange Doctor Blade
Since its introduction in 2013, the TruPoint Orange doctor blade has been widely adopted as a replacement for steel in narrow web pressrooms due to its equivalent metering performance and safety benefits. But its ability to eliminate UV ink spitting and last longer in abrasive and corrosive environments is what has made it more popular than ever in digital and sheetfed offset pressrooms as well.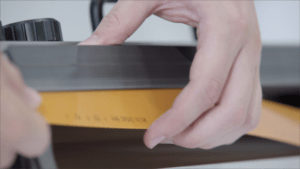 A product of Flexo Concepts' doctor blade innovation lab, TruPoint Orange is constructed from a next-generation polymer material and finished with a precisely engineered MicroTip® edge. The combination of material and tip provides enough stiffness – at thinner gauges than traditional plastic blades – to maintain a strong blade contact area that not only delivers exceptional metering but also prevents ink and coating from slinging. TruPoint Orange blades are highly abrasion-resistant and chemically compatible with all specialty ink and coating formulas, producing better lay-down and outlasting steel. As an added bonus, TruPoint Orange is safer than steel for blade handlers and anilox rolls – no injuries or metal slivers that cause scoring.
A Perfect Match
As TRESU's original E-Line Chamber Doctor Blade System improved efficiency in the pressroom, the latest enhancement adds flexibility. The company's Series XL Blade Holder makes it quick and easy for a press operator to change out a blade and choose a steel or plastic blade based on the demands of the job. And by making the use of a TruPoint Orange blade possible, the new design gives printers access to a blade that can handle difficult chemistries and deliver what today's customers are looking for – eye-catching, brand-differentiating, vibrant packages that sell products.
Current Models
TRESU's new XL Blade Holder is available for the D1E, D2E and D3E versions of its E-Line Chamber Doctor Blade System. These models make up the majority of systems used in narrow web, digital priming and coating, offset coatings and some wide web applications. No modifications to the chamber are required to retrofit the new clamp system into existing flexo printing units.
Watch how easy it is to change a blade with the E-Line clamping system!
Learn how the P-Line clamping system gives corrugated printers access to truPoint blades.