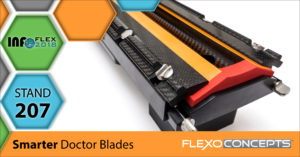 Plymouth, MA, April 24, 2018. At INFOFLEX 2018, Flexo Concepts® will promote the advantages of its TruPoint® premium doctor blades as high-performance blade options that are safer and last longer than steel.
Shipping as the standard blade with many new press installations, TruPoint Orange® meters high anilox line screens effectively and prevents common problems in narrow web pressrooms such as UV ink spitting. For corrugated printers, better spring memory and stiffness make TruPoint Green® a good substitute for UHMW in applications that require mid-level graphics quality.
Visitors to the show can attend the forum presentation, "The Spectrum of Culture: From Employee to Customer," on May 6th to learn about the benefits of a company culture that's aligned between the people inside and outside a company. Flexo Concepts' representatives Phil Ryan and Rachel Acevedo will share their experiences and offer advice on how to connect the wants, needs and values of the marketplace with those of the employees to create a positive and productive corporate environment.
To learn more or request a blade sample, visit Flexo Concepts at booth #207 at the show or go to www.flexoconcepts.com. To access a complete press kit, go to www.flexoconcepts.com/media.
About Flexo Concepts
Headquartered in Plymouth, Massachusetts, Flexo Concepts manufactures TruPoint doctor blades and wash-up blades and MicroClean™ dry media anilox cleaning systems.  All products are designed to improve print quality and reduce operational costs for flexographic and offset printers.  Flexo Concepts maintains distribution locations in North America, South America, Europe, Asia, Africa and Australia.  For more information about the company and its products visit www.flexoconcepts.com.  For regular updates, follow Flexo Concepts on Facebook and Twitter.