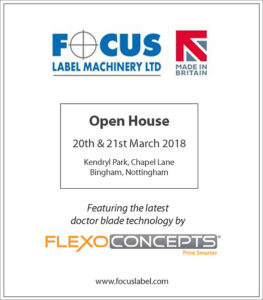 Plymouth, MA, March 7, 2018.  As a featured blade supplier, Flexo Concepts will present the benefits of its TruPoint Orange® doctor blade at Focus Label Machinery's Open House on March 20-21, 2018.
The event will take place at the label press builder's manufacturing, production and showroom facilities in Nottingham, U.K. Focus will demonstrate its premium e-Flex Servo with UV LED, accompanied by technical information session and analysis of the overall advantages of using LED technology. Among other partners, an ink supplier will be on site to recommend customized solutions for printers' specific applications.
Flexo Concepts' Bernat Ferrete will be on hand to tout the performance and safety benefits of the TruPoint Orange doctor blade. The blade's material properties and MicroTip® allow for a more fluid transfer of ink to the plate and have been proven to eliminate UV ink spitting. Its abrasion resistance also makes it a popular choice for applying special coatings and tactile finishes. When asked for reasons why he chooses to demonstrate his equipment with TruPoint Orange, Colin Ellison, Print Technician at Focus, cited ink spitting and long blade life as the primary reasons.
To learn more about the event, go to www.focuslabel.com. For more information about the TruPoint Orange doctor blade, visit www.flexoconcepts.com. A complete press kit can be accessed at www.flexoconcepts.com/media.
About Flexo Concepts
Headquartered in Plymouth, Massachusetts, Flexo Concepts manufactures TruPoint doctor blades and wash-up blades and MicroClean™ dry media anilox cleaning systems. All products are designed to improve print quality and reduce operational costs for flexographic and offset printers.  Flexo Concepts maintains distribution locations in North America, South America, Europe, Asia, Africa and Australia. For more information about the company and its products visit www.flexoconcepts.com.  For regular updates, follow Flexo Concepts on Facebook and Twitter.