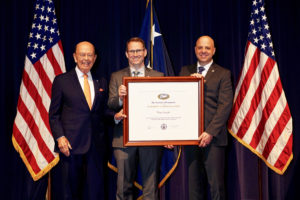 Plymouth, MA, June 5, 2018. "Flexo Concepts' achievements have undoubtedly contributed to national export expansion efforts that support the U.S. economy and create American jobs," said Secretary of Commerce Wilbur Ross when presenting the President's "E" award to the company last month.
For the second time this year, Flexo Concepts has been recognized for its strong export initiatives, accepting the latest award at a ceremony in Washington D.C.
The "E" Award is the highest recognition any U.S. entity can receive for making what Secretary Ross called "a significant contribution to the expansion of exports." He presented the award to Flexo Concepts' owners Kevin McLaughlin and Greg Howell at a service in the Herbert C. Hoover building.
"Since 2001, we have worked hard to expand our presence globally. This prestigious award is an endorsement of our success, and we are extremely proud to be honored in this way," remarked McLaughlin after receiving the award. Howell, added, "This award reflects the dedication of our entire staff to overcoming the challenges that come with selling overseas. We are thrilled to be able to share it with them."
In total, Secretary Ross honored 43 U.S. companies and organizations from across the country with the President's "E" Award for their role in strengthening the U.S. economy by sharing American ingenuity outside of our borders. U.S. companies are nominated for "E" Awards through the U.S. Commercial Service, part of the Department's International Trade Administration.
The President's "E" Award represents the second time this year that the company has been distinguished for its focus on growing exports. In April, Flexo Concepts was named Massachusetts SBA "2018 Exporter of the Year" for its commitment to increasing its exports and supporting marketing and distribution programs.
For more information about the "E" Awards and the benefits of exporting, visit www.export.gov. To learn more about Flexo Concepts, go to www.flexoconcepts.com.
About Flexo Concepts
Headquartered in Plymouth, Massachusetts, Flexo Concepts manufactures TruPoint® doctor blades and wash-up blades and MicroClean™ dry media anilox cleaning systems. All products are designed to improve print quality and reduce operational costs for flexographic and offset printers. Flexo Concepts maintains distribution locations in North America, South America, Europe, Asia, Africa and Australia. For more information about the company and its products visit www.flexoconcepts.com. For regular updates, follow Flexo Concepts on Facebook and Twitter.