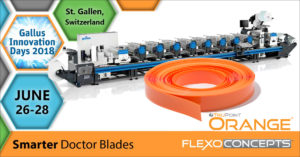 Plymouth, MA, June 20, 2018. Flexo Concepts will be a featured supplier at Gallus Innovation Days 2018, where the OEM and partners will present new-to-market innovations and talk about how digital technology is transforming the label market.
The event will take place on June 26-28 at the company's headquarters in St. Gallen, Switzerland, a larger venue than in previous years. Gallus will introduce its newest digital label printing system, Smartfire, to an audience of 1,000 or more visitors. The press is designed as an easy-to-handle, affordable printing solution for flexo printers who are producing constantly-changing short runs and want to enter the digital market. The company will also run live demonstrations of its new Labelmaster Advanced conventional label press which boasts a modular design that combines exceptional flexibility with a high level of automation.
As one of 30 invited co-suppliers, Flexo Concepts will promote its TruPoint Orange® doctor blade with MicroTip® as a good blade option for label printers. The blade serves as an alternative to steel blades for producing high-quality graphics as well as a solution to common pressroom issues such as UV spitting and short blade life. Due to the blade's abrasion- and corrosion-resistant material and MicroTip design, TruPoint Orange delivers a smooth and even lay-down of all types of inks and coatings including UV formulas and white inks.
To learn more about the benefits of TruPoint Orange, visitors are encouraged to attend the presentation, "TruPoint Orange – Tomorrow's Doctor Blade for Today's Printers," by Flexo Concepts' CEO, Kevin McLaughlin. He and international sales representative Bernat Ferrete will be on hand at stand #19 to answer questions and distribute Orange blade samples.
Visit www.gallus-group.com to find out more about the event or to register. For more information about TruPoint Orange or to request a blade sample, go to www.flexoconcepts.com/orange-doctor-blade.
About Flexo Concepts
Headquartered in Plymouth, Massachusetts, Flexo Concepts manufactures TruPoint® doctor blades and wash-up blades and MicroClean™ dry media anilox cleaning systems.  All products are designed to improve print quality and reduce operational costs for flexographic and offset printers.  Flexo Concepts maintains distribution locations in North America, South America, Europe, Asia, Africa and Australia.  For more information about the company and its products visit www.flexoconcepts.com.  For regular updates, follow Flexo Concepts on Facebook and Twitter.