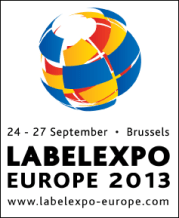 Flexo Concepts™ will feature its revolutionary new doctor blade, TruPoint™ Orange™, at this year's Labelexpo show in Brussels. Since its release to the market in early 2013, Orange has earned the endorsement of several OEMs and is transforming the industry's perception about nonmetallic doctor blades.
Last month, Orange was selected by Mark Andy to join its Mark Andy Print Products line of blade offerings to provide customers with a solution to a variety of common pressroom issues. John Christiansen, Manager at Mark Andy University, is quoted, "I recommend TruPoint Orange doctor blades to any customer dealing with anilox scoring and UV ink spitting. Orange is an excellent all around blade and has exceeded my expectations." The blade is also shipping with all new Mark Andy Performance Series installations as a product that will deliver maximum performance overall.
TruPoint Orange is constructed from an advanced polymer and engineered with a unique MicroTip™ to achieve fine and consistent metering over the life of the blade. The material is also safe to handle and lasts longer than steel.
Visit Flexo Concepts stand 11S20 at the show or go to http:/www.flexoconcepts.com/orange to learn more about TruPoint Orange and request a blade sample.

About Flexo Concepts™
Headquartered in Plymouth, Massachusetts, Flexo Concepts™ manufactures TruPoint™ doctor blades and MicroClean™ dry media anilox cleaning systems. All products are designed to improve print quality and reduce operational costs for flexographic and offset printers. Flexo Concepts™ maintains distribution locations in North America, South America, Europe, Asia, Africa and Australia. For more information about the company and its products visit www.flexoconcepts.com.