Steel doctor blades are often the cause of anilox roll scoring and severe personal injuries. Switching to nonmetallic blades can not only ensure print quality and minimize waste, but also prolong the life of anilox rolls and reduce the risk of lost-time accidents.
Anilox Roll Scoring from Steel Doctor Blades
Steel doctor blades are the cause of many anilox roll scoring incidents. Improper blade installation and excessive blade pressure can cause small fragments of the metal blade to break away, become lodged against the roll and destroy rows of anilox cells as the roll turns.  The damaged area or "score line" appears as a thin band which runs around the circumference of the roll. The corresponding area of print will either show a dark or light streak depending on the depth and severity of the score line. Either way, the roll has to be resurfaced or replaced at a significant cost to the printer.
To reduce anilox roll scoring from steel doctor blades:
Ensure the roll's engraving is smooth when received from the anilox supplier
Filter inks using current magnet technology
Maintain a good

anilox cleaning

regimen
Ensure proper chamber alignment and blade installation
Change blades and end seals frequently
Injuries from Steel Doctor Blades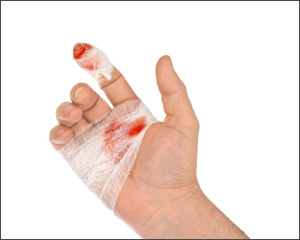 Steel doctor blades can also be blamed for a large number of pressroom injuries. As steel blades wear, their edges become honed through contact with the anilox roll. This leaves razor-sharp tips that pose a significant cut hazard. Press operators always need to be cautious when handling steel blades but especially careful when removing the worn blades from the press for this reason. There are substantial costs associated with accidents that occur on the job in addition to the emotional impact of a workplace injury. The cost of lost-time accidents from a steel doctor blade ranges from an increase in insurance rates and workman's compensation claims to medical bills, labor replacement expenses and press downtime.
When it comes to the pressroom, safety is everyone's concern. To reduce the risk of injury and eliminate the risk of anilox roll scoring, consider switching to non-metallic blades instead.