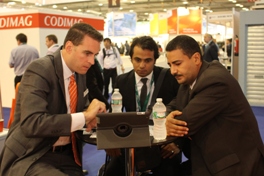 The TruPoint™ Orange™ doctor blade by Flexo Concepts™ generated a great deal of interest at Labelexpo Europe 2013 from distributors around the world wanting to represent the product. The company attributes a high level of foot traffic to its booth to the recent buzz in the industry about the new blade as well as the promotional support of OEMs and co-suppliers at the show.
Since its release to the market earlier this year, Orange is transforming the industry's perception about non-metallic doctor blades and has earned the endorsement of several OEMs. In August, Mark Andy added Orange to its Mark Andy Print Products line of offerings and began shipping new P-Series installations with the TruPoint Orange blade. The Print Products team recommends the blade as a solution to common pressroom problems faced by printers such as UV ink spitting and anilox scoring.
A high point of the show was that TruPoint Orange was featured on ten presses including AB Graphic International, BAR Graphic Machinery, Focus Label Machinery, HP and Nilpeter. People who were interested could see the doctor blade in action and inspect print samples produced with TruPoint Orange on the spot.
Another highlight was the company's collaboration with multiple co-suppliers on a promotional piece created to demonstrate the latest advancements in flexography. Flexo Concepts provided its innovative doctor blade, TruPoint Orange, for the project, which produced a complex, currency-like image in label format. Partners included Color-Logic, MacDermid, Harper, ACTEGA WIT and Clemson University.
As President of Flexo Concepts, Kevin McLaughlin's reaction to Labelexpo was that it was "an overwhelming success" for the company. He reports, "It was great to see the industry confirming what we believed to be true: that Orange is redefining how people think about doctor blades."
To learn more about TruPoint Orange and request a blade sample, visit: www.flexoconcepts.com/orange.

About Flexo Concepts™
Headquartered in Plymouth, Massachusetts, Flexo Concepts™ manufactures TruPoint™ doctor blades and MicroClean™ dry media anilox cleaning systems. All products are designed to improve print quality and reduce operational costs for flexographic and offset printers. Flexo Concepts™ maintains distribution locations in North America, South America, Europe, Asia, Africa and Australia. For more information about the company and its products visit www.flexoconcepts.com.