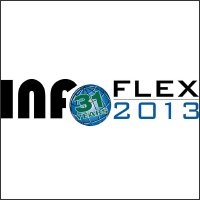 Flexo Concepts™ announced plans today to exhibit at Info*Flex 2013 April 29-30 in San Diego. The show will be combined with the annual FTA Forum which offers attendees a variety of informative sessions focused on helping printers stay on top of industry trends. Search for suppliers of similar products in the Packaging Network.
At the event, Flexo Concepts™ will introduce its newest TruPoint™ Orange™ doctor blade technology that joins innovations in polymer materials with advancements in tip design. The result is a long-life blade that can deliver the metering ability of steel with the safety benefits of a non-metallic blade in a wide variety of flexographic printing applications. The company's TruPoint™ DuraPoint™ blade, a next generation UHMW with 30% longer blade life in corrugated applications, will also be featured. Information about the company's MicroClean™ dry media anilox cleaning equipment as well as other TruPoint™ blades and samples will be available at booth #306.
Hosted by the FTA, Info*Flex is considered the largest trade event of the year serving the packaging, printing and converting industries. Flexo Concepts™ will be one of over 200 exhibitors showcasing new products and technologies to an expected audience of 1,600+ visitors. Running concurrently, the conference program promises lively "dialog, discussion and debates" about hot issues facing the industry today. Visit Flexo Concepts™ in booth #306 or online at www.flexoconcepts.com for more information about the company and its TruPoint™ and MicroClean™ product lines. For regular updates, follow Flexo Concepts™ on Facebook and Twitter.

About Flexo Concepts™
Headquartered in Plymouth, Massachusetts, Flexo Concepts™ manufactures TruPoint™ doctor blades, the TruPoint™ QuikWash™ System and wash-up blades, and MicroClean™ dry media anilox cleaning systems. All products are designed to improve print quality and reduce operational costs for flexographic and offset printers. Flexo Concepts™ maintains distribution locations in North America, South America, Europe, Asia, Africa and Australia. For more information about the company and its products visit www.flexoconcepts.com.