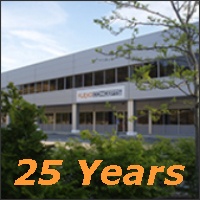 This year marks 25 years in business for doctor blade manufacturer, Flexo Concepts. Since introducing its first TruPoint blade to the printing industry in 1988, the company has become the world's leading producer of non-metallic doctor blades serving the flexographic and sheetfed offset markets.
The company opened its doors a quarter-century ago with a limited line of doctor blades for corrugated and newspaper printers. Over the years, the line grew to include multiple materials and a range of tips and thicknesses for a wide variety of flexographic and sheetfed offset printing applications. The company added a line of anilox cleaning equipment and service through the acquisition of MicroClean™ in 2005.
By achieving market leadership with a number of exclusive products, the company has developed a reputation for cutting-edge technology. Its trademark orange logo color, introduced in 2006, has become an icon of innovation that is well-recognized throughout the industry.
Most recently, Flexo Concepts began marketing its revolutionary new product, the TruPoint Orange™ doctor blade,, to the international flexible packaging and label market. After successful testing and a U.S. launch in 2012, Orange has been proven as a long-life replacement for steel with added safety benefits in a full range of wide web and narrow web applications. While the company had traditionally maintained a niche-market approach, this product gives it access to a broad industry sector where steel has historically been the only option due to high print quality requirements. Flexo Concepts is confident that Orange will achieve market dominance throughout the industry over the next several years based on sales to date.
Three years ago, driven by organic growth in the core consumables business overseas, Flexo Concepts relocated its manufacturing operation and corporate offices to a significantly larger facility in Plymouth, Massachusetts to consolidate all aspects of production under one roof. Recent additions to the sales, marketing, customer service, engineering and accounting teams are a sign of the company's optimism about success with the Orange product.
Current owner and president, Kevin McLaughlin reflects, "I am proud of the growth we have achieved over the past 25 years. We owe our success to our customers, both those who have been with us from the start as well as the new ones we welcome every day, and the hard work and dedication of our committed staff. I am excited to see what the next 25 years will bring."

About Flexo Concepts™
Headquartered in Plymouth, Massachusetts, Flexo Concepts™ manufactures TruPoint™ doctor blades, the TruPoint™ QuikWash™ System and wash-up blades, and MicroClean™ dry media anilox cleaning systems. All products are designed to improve print quality and reduce operational costs for flexographic and offset printers. Flexo Concepts™ maintains distribution locations in North America, South America, Europe, Asia, Africa and Australia. For more information about the company and its products visit www.flexoconcepts.com.