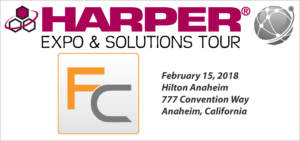 Plymouth, MA, January 23, 2018. Flexo Concepts will again be presenting on Harper's 2018 U.S. circuit kicking off in Anaheim, California next month. In its new format, renamed its "Expo & Solutions Tour," Harper is adding an expo segment with up to 24 industry suppliers and presentations centered on fixes for daily pressroom challenges.
At the event, Flexo Concepts National Account Manager Andrew Latosek will examine new applications for non-metallic blades and how they can help reduce a printer's carbon footprint. He will also explore the various doctor blade tip options available to printers and touch on applications for metering instruments in other industries.
The event will be held on February 15 at the Hilton Anaheim at 777 Convention Way. The tour stops are always hosted by Harper free-of-charge. However, space is limited, and anyone interested in attending should reserve a spot at www.harperimage.com/roadshows/Anaheim-CA/559.
To learn more about TruPoint doctor blades, visit www.flexoconcepts.com. Go to flexoconcepts.com/media to download a complete press kit.
About Flexo Concepts
Headquartered in Plymouth, Massachusetts, Flexo Concepts manufactures TruPoint® doctor blades and wash-up blades and MicroClean™ dry media anilox cleaning systems. All products are designed to improve print quality and reduce operational costs for flexographic and offset printers. Flexo Concepts maintains distribution locations in North America, South America, Europe, Asia, Africa and Australia. For more information about the company and its products visit www.flexoconcepts.com. For regular updates, follow Flexo Concepts on Facebook and Twitter.