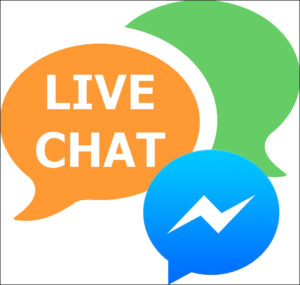 Plymouth, MA, January 29, 2018. Flexo Concepts has ushered in 2018 with new and easier ways for customers to get in touch. The company is encouraging people to use Live Chat, Facebook Messenger and an online meeting booking tool for personalized service with little-to-no wait and fast response times.
The Live Chat system allows website visitors to converse in real time with a sales or technical representative to find out about products, get troubleshooting support or ask general questions. Customers can also use Facebook Messenger to contact the company, a method that's expected to be popular with the international market due to time zone differences and high dialing rates.
Live Chat and Facebook Messenger are available on most devices.  Some of the benefits of Facebook Messenger are the ease with which customers can send pictures or video and that the conversation is saved and can be added to over time.  These features make it a great tool for product usage issues and for press operators using the product on 2nd and 3rd shifts.
Finally, if a customer has limited access to a phone or internet during the workday, he can use Flexo Concepts' new meeting booking tool to select a convenient time for a representative to contact him. A call can be general or technical in nature and can be scheduled up to a year in advance.
"We want to be available for customers on the platform or method of their choice," said Phil Ryan, Flexo Concepts' Supply Chain and Service Manager. "We still answer the phone with a live person when customers call and we're active on email. In our private lives, people are using chat and direct messaging more and more to communicate and we think this trend is increasing in the business world."
These new ways to connect demonstrate Flexo Concepts' commitment to making doing business with the company easy. Other customer-focused services include short lead times on orders, inventory management programs and consultative selling practices.
For more information about Flexo Concepts, visit www.flexoconcepts.com. To access a complete press kit, go to www.flexoconcepts.com/media.
About Flexo Concepts
Headquartered in Plymouth, Massachusetts, Flexo Concepts manufactures TruPoint® doctor blades and wash-up blades and MicroClean™ dry media anilox cleaning systems. All products are designed to improve print quality and reduce operational costs for flexographic and offset printers. Flexo Concepts maintains distribution locations in North America, South America, Europe, Asia, Africa and Australia. For more information about the company and its products visit www.flexoconcepts.com. For regular updates, follow Flexo Concepts on Facebook and Twitter.