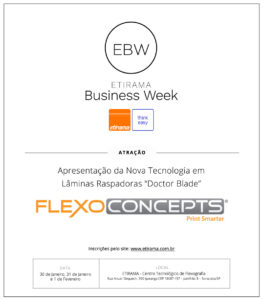 Plymouth, MA, January 22, 2018. Flexo Concepts announced today that it will be the featured doctor blade supplier at Etirama's Business Week 2018 on January 30-February 1 in Sao Paolo, Brazil.
The event will mark the opening of Etirama's new "Future" Flexography Technological Center, where thirteen industry co-suppliers will promote the latest and greatest in flexo technology. There will be nine pieces of equipment on display including Etirama's new generation FIT2018 and new E-Series. The company expects over 160 visitors representing about 50 converters from Latin America, Europe and South Africa.
As the featured doctor blade supplier, Flexo Concepts will promote the benefits of its TruPoint Orange® doctor blade technology which include safety, consistent print quality and elimination of UV ink spitting. Last year, Etirama began shipping TruPoint Orange doctor blades with all new press installations to maximize the performance of its equipment.
Anyone interested in attending Business Week 2018 can register at etirama.com.br/ebw2018/. To learn more about the TruPoint Orange doctor blade, visit www.flexoconcepts.com. To access a complete press kit, go to www.flexoconcepts.com/media/.
About Flexo Concepts
Headquartered in Plymouth, Massachusetts, Flexo Concepts manufactures TruPoint doctor blades and wash-up blades and MicroClean™ dry media anilox cleaning systems. All products are designed to improve print quality and reduce operational costs for flexographic and offset printers. Flexo Concepts maintains distribution locations in North America, South America, Europe, Asia, Africa and Australia. For more information about the company and its products visit https://www.flexoconcepts.com/. For regular updates, follow Flexo Concepts on Facebook and Twitter.