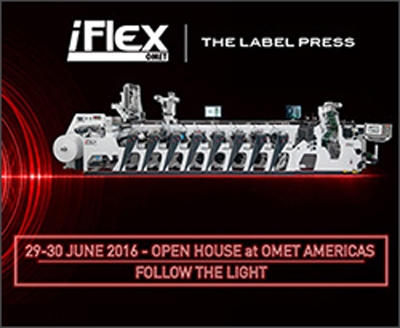 Plymouth, MA, June 15, 2016. Flexo Concepts announced today that it will attend Omet America's open house as a premium partner on June 29-30. The exclusive event will take place at the press manufacturer's brand new demo center in Elk Grove Village, Illinois.
At the open house, Omet will present the capabilities of the new iFlex label press, considered by the company to be its smartest technological innovation to date. Scheduled demonstrations, taking place at 11:00 and 3:00 each day, will showcase its impressive iLight pre-registration system, the first laser application on a flexo press, and iVision register adjustment and control. To register for the event, go to http://printing.omet.com/iflex-open-house-omet-americas/.
Flexo Concepts will be among select industry suppliers chosen to exhibit at the event in a tabletop setting. The company will feature its TruPoint Orange® doctor blades with MicroTip® edges. Available in a range of thicknesses and MicroTips, Orange blades optimize metering performance, extend blade life and eliminate UV ink spitting in label printing applications.
To learn more about the TruPoint Orange doctor blade, visit www.flexoconcepts.com. To access a complete press kit, go to www.flexoconcepts.com/media.
About Flexo Concepts
Headquartered in Plymouth, Massachusetts, Flexo Concepts manufactures TruPoint doctor blades and wash-up blades and MicroClean™ dry media anilox cleaning systems. All products are designed to improve print quality and reduce operational costs for flexographic and offset printers. Flexo Concepts maintains distribution locations in North America, South America, Europe, Asia, Africa and Australia. For more information about the company and its products visit www.flexoconcepts.com. For regular updates, follow Flexo Concepts on Facebook and Twitter.