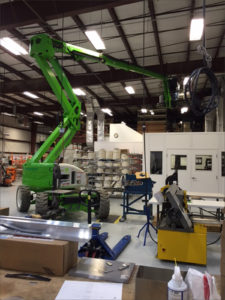 Plymouth, MA, June 23, 2016. In its continuing effort to "go green," Flexo Concepts has outfitted its entire manufacturing facility and headquarters with LED lighting. The project has a two-year return on investment and resulted in an annual reduction in energy use significant enough to power six homes for a year.
The scope of the project included the company's entire manufacturing and administrative space as well as the parking lot and other common areas of the building complex. All bulbs in the office areas were equipped with LED lamps and all lighting equipment in the shop and common areas was replaced with new fixtures that contain LED lamps.
Flexo Concepts worked with The Energy Efficiency Group (TEEG), an independent energy services company, throughout the project. TEEG facilitated all aspects of the process including performing an initial energy audit, making recommendations, submitting permits to the utility, handling the approvals, and scheduling and coordinating all work with the company's electrician.
According to John Ferris, Flexo Concepts' engineering manager, "The rebates offered by our utility company and quick payback made the investment an easy decision. By reducing the cost of the project by half, we were able to pursue this option for making our company more eco-friendly." He also noted that the process was surprisingly simple as TEEG handled everything from evaluation to implementation.
To learn more about Flexo Concepts, visit www.flexoconcepts.com. To access a complete press kit, go to www.flexoconcepts.com/media.
About Flexo Concepts
Headquartered in Plymouth, Massachusetts, Flexo Concepts manufactures TruPoint® doctor blades and wash-up blades and MicroClean™ dry media anilox cleaning systems. All products are designed to improve print quality and reduce operational costs for flexographic and offset printers. Flexo Concepts maintains distribution locations in North America, South America, Europe, Asia, Africa and Australia. For more information about the company and its products visit www.flexoconcepts.com. For regular updates, follow Flexo Concepts on Facebook and Twitter.