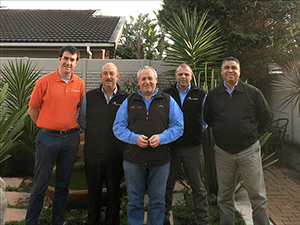 Plymouth, MA, August 11, 2015. Flexo Concepts® announced that Barkev Graphics has been awarded exclusive distribution rights to sell TruPoint doctor blades in South Africa. The company is currently representing the line in all flexographic and sheetfed offset markets in the southern and eastern regions of the continent.
Barkev Graphics was established in 1988 to import specialized print consumables for a small customer base. Since then, the company has grown into a distinguished supplier of general printing consumables and equipment, packaging and industrial cutting blades, and water-based coatings and cleaners. Barkev operates three offices in the territory and maintains a brand supported by quality products, excellent service and knowledgeable employees.
To learn more about TruPoint doctor blades, visit www.flexoconcepts.com. To access a complete press kit, go to www.flexoconcepts.com/media.php.
About Flexo Concepts
Headquartered in Plymouth, Massachusetts, Flexo Concepts manufactures TruPoint doctor blades, the TruPoint QuikWash™ System and wash-up blades, and MicroClean™ dry media anilox cleaning systems. All products are designed to improve print quality and reduce operational costs for flexographic and offset printers. Flexo Concepts maintains distribution locations in North America, South America, Europe, Asia, Africa and Australia. For more information about the company and its products visit www.flexoconcepts.com. For regular updates, follow Flexo Concepts on Facebook and Twitter.