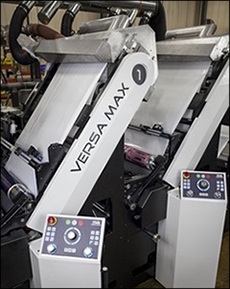 Plymouth, MA, July 22, 2015. Flexo Concepts® announced today that Mark Andy has begun shipping its Versa Max press line with the TruPoint Orange doctor blade.
Introduced in late 2013, Versa Max was designed by Mark Andy to meet the demands of short run film and flexible packaging work while offering a lower unit printed cost than any other press in its class. The model delivers high production speeds and top quality printing across a variety of substrates.
Mark Andy started shipping its P Series presses with the TruPoint Orange blade two years ago. In both cases, the company chose Orange as a blade that will deliver maximum performance as well as resolve issues related to UV ink spitting, anilox scoring and insufficient blade life.
To learn more about the TruPoint Orange doctor blade, visit www.flexoconcepts.com. To access a complete press kit, go to www.flexoconcepts.com/media.
About Flexo Concepts
Headquartered in Plymouth, Massachusetts, Flexo Concepts manufactures TruPoint doctor blades, the TruPoint QuikWash™ System and wash-up blades, and MicroClean™ dry media anilox cleaning systems. All products are designed to improve print quality and reduce operational costs for flexographic and offset printers. Flexo Concepts maintains distribution locations in North America, South America, Europe, Asia, Africa and Australia. For more information about the company and its products visit www.flexoconcepts.com. For regular updates, follow Flexo Concepts on Facebook and Twitter.