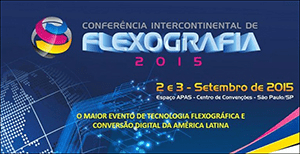 Plymouth, MA, August 11, 2015. Flexo Concepts announced plans today to attend Conferência Intercontinental de Flexografia 2015 on September 2-3 in São Paulo, Brazil. International sales representative Bernat Ferrete will be available to support the company's two distributors, Group Work and Mercury, and he will be a presenter at the conference.
Group Work is a supplier of leading industry products with a portfolio ranging from machinery and equipment, blankets and rollers to chemicals and consumable parts. The company sells TruPoint products into the local tag & label, flexible packaging and sheetfed offset markets. Mercury is the largest provider of belts, blankets and polyurethane parts for the packaging industry in South America and sells TruPoint doctor blades to the Brazilian corrugated market.
In addition to providing support to the company's distributors, Bernat Ferrete will present, "Next Generation Polymer Doctor Blades are a Safe AND Effective Replacement for Steel." The lecture will take place at 9:00 AM on 3 September.
Flexografia Conferência runs every two years in conjunction with the Brazilian FTA. With a completely redesigned format and new venue in 2015, the show will be the largest flexographic and digital technology event in Latin America.
If you would like to learn more about TruPoint blades or request a sample, visit Group Work or Mercury at the show or visit www.flexoconcepts.com. To access a complete press kit, go to www.flexoconcepts.com/media.
About Flexo Concepts
Headquartered in Plymouth, Massachusetts, Flexo Concepts manufactures TruPoint doctor blades, the TruPoint QuikWash™ System and wash-up blades, and MicroClean™ dry media anilox cleaning systems. All products are designed to improve print quality and reduce operational costs for flexographic and offset printers. Flexo Concepts maintains distribution locations in North America, South America, Europe, Asia, Africa and Australia. For more information about the company and its products visit www.flexoconcepts.com. For regular updates, follow Flexo Concepts on Facebook and Twitter.