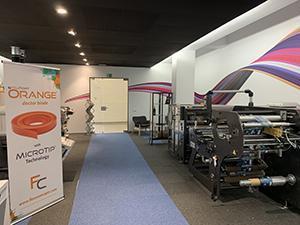 Plymouth, MA, September 1, 2021.  On behalf of its European label partner, Flexo Concepts is proud to announce the opening of A.B. Graphic's new showroom in Barcelona. The  company has selected the TruPoint Orange doctor blade to demonstrate the performance of its digital finishing equipment.
ABG began shipping its Digicon Series 2 and Digicon Lite machines with the TruPoint Orange doctor blade in 2014. Since then, the equipment manufacturer has chosen Orange over other blade products due to its extended blade life and safety. Additional pressroom benefits of using the blade include the elimination of UV spitting and anilox roll scoring.
Established in 1954 in the U.K., ABG offers a full line of label and package printing converting equipment. To date, the company has installed 11,000 machines worldwide for 2,500 customers.
More information about the company and its products can be found at abgint.com, or you can virtually "visit" the new showroom for yourself on YouTube. To learn more about TruPoint Orange, go to www.flexoconcepts.com.
About Flexo Concepts
Headquartered in Plymouth, Massachusetts, Flexo Concepts manufactures TruPoint doctor blades and MicroClean™ dry media anilox cleaning systems. All products are designed to improve print quality and reduce operational costs for flexographic and offset printers. Flexo Concepts maintains distribution locations in North America, South America, Europe, Asia, Africa and Australia. For more information about the company and its products visit www.flexoconcepts.com. For regular updates, follow Flexo Concepts on LinkedIn and Twitter.