In today's fast-changing, on-demand marketplace, the economic benefits and flexibility of digital printing technology cannot (and should not) be disputed. These presses are "on their feet" with minimal set-up required, empowering them to produce short runs and customized work with fast turnaround times. The computerized process delivers perfectly aligned images with crisp edges and no color overlapping. Traditional flexo technology, on the other hand, is fast, cost-effective for large runs, versatile with regard to substrate options, and offers numerous choices for decoration. While each printing method has its strengths, the possibilities increase exponentially when the two are used together.
Flexo printing
In a mechanical process like flexo printing, an anilox roll, metered by a doctor blade, delivers ink to the substrate by way of a printing plate. How the anilox roll and doctor blade interact has a large impact on the quality of the finished print. Factors such as anilox cell configuration, doctor blade material and tip, and dyne levels of the components throughout the ink delivery system play key roles.
Digital printing
Digital printing presses deliver an electronic image directly to the media using either inkjet or electrophotographic technology. In digital inkjet presses, the ink is delivered through a print head and jetted onto the substrate in an on-demand or continuous basis. The inks are engineered with lo w viscosity formulations, to prevent clogging of the print head nozzles, and specific adhesion properties to control dot spread and image quality.
Electrophotography, or laser printing, technology uses electrostatic energy to apply charged wet (HP Indigo) or dry (Xeikon) toner particles to the substrate. Electrical charges attract or repel the particles from the areas to be printed. The particles are then permanently adhered or "fused" using heat, pressure, light or a combination.
Applying digital printing technology to packaging
As the demand for customization and shorter runs crosses into the flexo packaging industry, there are obvious benefits to adopting digital printing. But there are disparities that have to be overcome. The two printing processes require different ink characteristics in order to execute a clean replication of the image in print, for example. Also, consumer packaging substrates have to meet requirements such as strength, barrier and resistance while holding up to print, finishing and conversion.
Digital inks and toners are not always compatible with packaging substrates such as labels, plastic film, folding carton and corrugated board. The heat used to fix dry toner to the substrate can dehydrate the media. When it comes to wet toner, ink wetting, or how the toner droplets interact with the surface of the substrate, has to be precise. If wetting is too low, the ink droplets spread too little, and the printed image contains gaps that appear as lines or bands in the image. If wetting is too high, the droplets merge with one another and the image loses edge definition. When applied to a substrate such as paper or board, the ink or toner can penetrate the material, leaving less on the surface and reducing color strength. With non-porous substrates, such as plastic and metallic films, the ink or toner tends to sit on top and not adhere properly to the material. This printed surface is left vulnerable to rubbing and scratching.
Primers, varnishes and special effects coatings
Digital converters can use flexo technology to apply layers of coating to bridge the gap between packaging substrates and digital inks or add embellishment.
Primers
To prepare materials – both paper and plastics – for digital printing, a "priming layer" is applied to the surface of the substrate to improve its adhesion properties and make it more receptive to ink or toner. Primers fix surface tension to improve adhesion and hold-out, reduce bleed and mottle, and provide a foundation for specialty coatings. Primed surfaces can support higher-quality graphics with sharper images and more vibrant colors. A coating of primer also seals the substrate for a consistent, finished look and enables faster drying.
Priming solutions are formulated based on the properties of both the substrate and the ink and can be applied inline, offline or by the supplier before the stock arrives in the pressroom. Equipment producers and consumables suppliers are working together to simplify this process. Some press manufacturers, such as HP, are providing inline priming units to optimize the performance of their equipment. Ink companies are engineering formulas for specific use with primers, and materials producers are innovating substrates suited to digital printing.
Varnishes (protective coatings)
We know that digital printing technology is capable of transferring a high-quality image and that substrates can be treated to "accept" the image flawlessly. However, digital inks are not as resistant as flexo inks, and digitally-printed surfaces are vulnerable to dirt, smudges, fingerprints, rubbing, scratching, scuff, moisture, heat and other damage from their environment.
A transparent layer of coating can be applied post-print to "seal" the image and protect it during transporting, storing and handling. Also known as overprint varnishes (OPVs), protective coatings are essentially transparent layers of solutions consisting of durable resins, anti-scuff agents and other additives applied in-line or offline. Flood coating is applied to the full sheet to protect the surface from damage, add a creative dimension or create a desired look or finish. Spot coatings can be used to bring shine and depth to certain areas of the design. Protective coatings can also help maintain the integrity of substrates – such as to prevent curling – and are best applied on top of primed stocks whose surfaces support the top-coat and prevent absorption.
Special effects coatings
In recent years, consumer packaging has taken on the role of marketing in addition to containing, protecting and describing what's inside. Manufacturers look for ways to differentiate their brands and improve the shelf-appeal of their products over competitors'. A large variety of special effect coatings can be used to add tactical, visual or olfactory dimensions to packaging and improve sales:
| | | |
| --- | --- | --- |
| Glitter | Iridescent | Crackle |
| Soft-touch | Gloss | Scratch-off |
| Pearlescent | Matte | Grit |
| Sand | Frost | Scent |
| Metallic | Glow-in-the-dark | Satin |
| Texture | Thermochromic | Dull |
Coating formulas
Aqueous – or water-based – coatings are the most common, economical and eco-friendly option. They are available in gloss or matte finishes and can only be used in flood applications. Aqueous coatings can be applied in-line and are dried using hot air and infrared dryers. Aqueous coatings provide good abrasion and rub resistance, prevent yellowing and protect metallic inks from tarnishing. They are generally safer to utilize with safer clean-up as well and more easily recycled in municipal waste systems.
UV coatings, a more expensive option, can also be applied in-line and offer additional protection and dramatic decorative appeal. They are cured through exposure to ultraviolet light and typically contain components to limit yellowing, cracking, scuffing and peeling over time. UV coatings are available in gloss, matte or tinted finishes and can be used to cover the entire sheet or to highlight certain areas of the design (known as spot coating).
Selecting a coating formula
When selecting a coating formula, there are several factors that should be considered according to Kurt Hudson, an independent consultant to the printing industry and founder of Solutions Logic. "More times than not, the question is – 'What is the object to be coated, in what environment will it need to be used, what are the specific requirements for the printed product to be effective in the end use environment, and what is the cheapest way to get there?'" Generally, Hudson believes the packaging use should drive the decision: "If one is producing for direct contact food packaging, then aqueous is the only choice. If one needs exterior durability, then UV is the only choice." Beyond that, he suggests using cost as a guideline: "One uses UV coatings when aqueous products can no longer provide the required benefits," said Hudson. He believes that look or feel is rarely the deciding factor as good mattes, textures and gloss can be achieved with aqueous and UV (with the exception of 3D tactile which requires a UV formula). He acknowledges that sometimes, but not often, productivity, ease of use and residual odor are considerations.
Coating application
The application of primer, protective coatings and special effects coatings is done via a flexo process which uses an anilox roll and doctor blade. The application of these formulas can be challenging and using the right doctor blade will have a big impact on quality and efficiency.
Primers and special effects coating formulas tend to have high viscosities – up to 5-7 times that of water and solvent-based ink formulas – or contain large particulates which can make it difficult for the printer to accurately control the amount being applied. The mass of the highly-viscous coating applies extra pressure to a steel metering blade as the anilox roll turns, especially at high press speeds. The result is hydroplaning or "spitting," which wastes materials and requires downtime for clean-up. A customized blade product with sufficient stiffness and abrasion-resistance is recommended to control the lay-down of coating and prevent spitting.
TruPoint Orange® doctor blade with MicroTip®
The harsh chemical compositions of the viscous and abrasive coating formulas described above, along with the coarse anilox surfaces required to deliver them, quickly wear out steel doctor blades. In these applications, a blade constructed from a durable material that can stand up to the rigorous coating properties is necessary. By engineering a modified lamella tip, known as a "MicroTip", on an advanced polymer material, Flexo Concepts has created an innovative plastic blade solution – TruPoint Orange – that has proven valuable in the application of priming and coating. The blade is compatible with all coating formulas, safe for anilox rolls and press operators, and does what plastic blades are known to do best: last longer.
TruPoint Orange blades can be engineered to a full range of size and profile combinations to optimize metering performance with higher viscosity and large particulate formulas. They range in thickness from .027"/.7mm to .050"/1.25mm to offer varying degrees of stiffness, rigidity and deflection. These properties combined with the innovative MicroTip edge allow the blades to achieve a fine contact area with the anilox roll and deliver a fluid transfer of coating to the plate with no spitting or slinging – even at high press speeds. With a range of MicroTip options (M10, M15 and M25), the blades can be customized for a "perfect fit."
Doctor blade optimization
The choice of blade thickness and tip will be determined by the anilox configuration, which is driven by the viscosity and solid load of the coating. Typically, higher line screens and lower cell volumes will require a smaller MicroTip (an M10 or M15 for dull/satin/gloss coatings for example). But, as line screens decline and volumes increase, a MicroTip providing a larger contact area (M15 or M25) will perform better. By selecting the appropriate MicroTip for a particular application, printers are able to achieve longer blade life than with steel blades.

OEMs supporting TruPoint Orange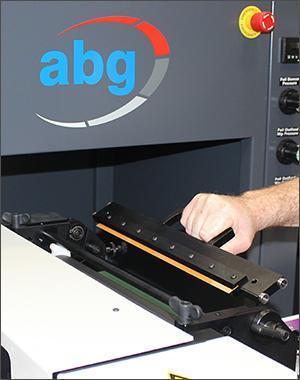 A number of digital finishing and hybrid press producers have found that their press productivity and output quality are optimized when using a TruPoint Orange doctor blade:
A B Graphic International
AzTech Converting Systems
Bar Graphic Machinery
Cartes Srl
Focus Label Machinery
Gonderflex International
Grafisk Maskinfabrik
Mark Andy
REFINE Finishing
Wenzhou Ryguan Machinery
Many of these manufacturers have chosen Orange to demonstrate the effectiveness of their equipment at Labelexpo shows worldwide, and a number are shipping their equipment standard with the blade.
Summary
As the package printing sector continues to embrace customization and personalization, combining the power of flexo and the versatility of digital will deliver strong competitive advantage to the converter. The use of primers, varnishes and special effects coatings aligns the two processes, bringing efficiencies and almost unlimited design possibilities to the pressroom. Industry suppliers have rallied to support this evolution; manufacturers have introduced new innovations ranging from hybrid presses, new substrates, state-of-the-art coating formulas and an advanced polymer doctor blade called TruPoint Orange with MicroTip edge technology.