Markets
Narrow Web
Wide Web
Envelope
Coating & Laminating
New Energy / Technology
Specialty Applications
Try TruPoint Plastic Doctor Blades for Free!
The Next Generation Polymer Doctor Blade
Nothing represents Flexo Concepts innovation like our TruPoint Orange Doctor Blades. Developed in our Innovation Lab, TruPoint Orange doctor blades outperform traditional steel doctor blades in virtually every category: blade life, metering precision, anilox wear and scoring, safety and much more. At one time, steel doctor blades were the only option capable of providing the fine, consistent contact area necessary to meter high anilox line screens effectively.  Thanks to the next generation advanced polymer material combined with MicroTip technology, TruPoint Orange is a safe alternative doctor blade that competes with steel.
The TruPoint Orange doctor blade is also known to combat UV ink spitting, and has been HD Flexo Certified by Esko! Try the next generation doctor blade for yourself – Request a free sample of TruPoint Orange today.
TruPoint Orange Doctor Blade Features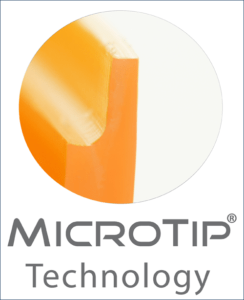 TruPoint Orange Meters like Steel
Unlike traditional plastic, the stiffness of the next generation material combined with a precisely engineered MicroTip™ edge allows the blades to achieve and maintain a fine contact area with the anilox roll throughout the entire life of the doctor blade.  The TruPoint Orange doctor blade can deliver effective metering on line screens up to 2,000 lpi (785 L/cm) and produce graphics of the highest quality.
To better understand MicroTip technology, Click Here to view "New Polymers Meter like Steel Doctor Blades" article.

The TruPoint Orange Material cures UV Ink Spitting
The thicker consistency of UV inks applies excessive pressure to the metering blade, often causing hydroplaning, or "spitting," defects in the print, when using steel blades. Thankfully, the lubricity, rigidity and lower surface energy of the TruPoint Orange doctor blade material allows for a more fluid transfer of ink to the plate – eliminating UV ink spitting.
To better understand the cause and solution of UV Ink Spitting, Click Here to view the "UV Ink Spitting is a Dirty Habit" article.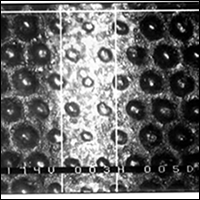 TruPoint Orange will not damage the Anilox Roll
A costly concern with using steel doctor blades is the potential for anilox roll scoring. Compared to steel, the next generation doctor blade material does not crack or splinter, causing roll scoring. Also, the material will not  prematurely wear the anilox roll or cause particles within your ink.
To better understand anilox roll scoring, Click Here  to view our blog post on "Anilox Roll Scoring".
TruPoint Orange has proven it's Metering Quality
The TruPoint Orange doctor blade is the first non-metallic doctor blade to receive the prestigious HD Flexo Certification awarded by Esko. The revolutionary MicroTip edge of TruPoint Orange allows a fine contact area, comparable to steel, that is able to meter the highest quality print.
To better understand, Click Here to view our Press Release titled, TruPoint Orange® Doctor Blade by Flexo Concepts® Earns Prestigious Esko HD Flexo Certification

TruPoint Orange outlasts Steel
TruPoint plastic and polymer doctor blades are generally known to outlast traditional steel doctor blades, due to the natural durability of plastic. The next generation doctor blade material combined with MicroTip technology delivers an unparalled metering performance that extends blade life,  and outlasts traditional steel doctor blades.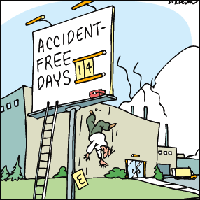 TruPoint Orange is Safe to Handle
You can significantly reduce press room injuries by replacing steel doctor blades with safe TruPoint Orange doctor blades. The properties of the polymer doctor blade material reduce the risk of injury when installing and removing blades from the press.
To better understand the risks associated with steel doctor blades, Click Here to download our White Paper on "The Hidden Costs of Using Steel Doctor Blades".
TruPoint Orange Standard Dimensions (custom dimensions available)
Thickness
Profile

Max. Width

Max. Length

.027″ / .7mm | .040″ / 1mm
.050″ / 1.27mm | .060″ / 1.6mm
.080″ / 2mm
MicroTip – M8 :: M10 :: M15 :: M25
Bevel – 15° :: 22° :: 30°
3″ / 76mm
250′ / 75m
Cut-To-Length available