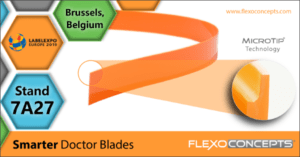 Plymouth, MA, September 17, 2019. Flexo Concepts® will continue to promote the benefits of its TruPoint Orange doctor blade at this year's Labelexpo show in Brussels. The team will also serve tastings of its exclusive Bee Sting Spiced Honey Liqueur – a popular offering at the last two Labelexpo events.
TruPoint Orange continues to deliver performance and safety advantages as a replacement for steel in narrow web pressrooms. Featuring MicroTip® technology, the blade delivers high-precision metering, eliminates UV ink spitting, reduces start-up waste and lowers the frequency of blade changes. Orange is also preferred by printers applying specialty coatings and abrasive formulas.
Once again, Orange will have the support of many distinguished OEMs at the show. A B Graphic International, Bar Graphic Machinery, Cartes Advanced Label Technology, Focus Label Machinery, Mark Andy, Refine Finishing, Zhejiang Rhyguan Machinery, Tresu Group and Zonten Europe will be running Orange blades to demonstrate the effectiveness of their equipment. Flexo Concepts is also a preferred partner of Edale and Etirama who will have a large presence at the Brussels event, and Pulse Roll Label will have on display labels printed with TruPoint Orange. More information and stand locations can be found at www.flexoconcepts.com/labelexpo-europe-2019.
Due to its popularity at the past two Labelexpo events, Bee Sting Spiced Honey Liqueur tastings will again be served at Flexo Concepts' stand #7A27. The liqueur is distilled in the company's hometown of Plymouth, Massachusetts using local ingredients, and the bottles feature a unique label printed by Design Mark using a TruPoint doctor blade.
For more information, a blade sample or a taste of Bee Sting,  visit Flexo Concepts at stand 7A27. A complete press kit can be downloaded at www.flexoconcepts.com/media.
About Flexo Concepts
Established in 1988 and headquartered in Plymouth, Massachusetts, Flexo Concepts manufactures TruPoint® doctor blades and MicroClean™ dry media anilox cleaning systems. All products are designed to improve print quality and reduce operational costs for flexographic and offset printers. Flexo Concepts maintains distribution locations in North America, South America, Europe, Asia, Africa and Australia. For more information about the company and its products visit www.flexoconcepts.com. For regular updates, follow Flexo Concepts on Facebook and Twitter.