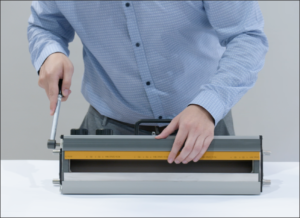 Plymouth, MA, September 20, 2019. Flexo Concepts is proud to announce the result of a joint project with TRESU that makes the E-Line Chamber Doctor Blade System compatible with TruPoint® doctor blades. The new system allows printers to quickly change between steel and plastic blades to optimize their ink and coating delivery system for effectiveness, efficiency and safety.
TRESU's E-Line Chamber Doctor Blade System, which uses a simple clamping apparatus that replaces screws with an eccentric rod and allows blade changes in under two minutes, was originally created for steel doctor blades. To address the increasing demand in the industry for plastic blades, TRESU worked closely with Flexo Concepts to create its exclusive Series XL Blade Holder. The new system can accept blades between .020"/0.5mm and .040"/1mm thick. Now, E-Line users now have access to a much wider variety of doctor blade options, and printers who prefer plastic blades – whether for safety, blade life, anilox scoring, solving problems or special applications – can also enjoy its benefits.
The new XL Blade Holder is available for the D1E, D2E and D3E versions of TRESU's E-Line Chamber System. No modifications to the chamber are required to retrofit the new clamp system into existing flexo units, and blade holders can be easily switched back and forth based on job requirements.
The new Series XL will be featured at Labelexpo Europe 2019 in Brussels. For a demonstration of the new clamp design with TruPoint blades, visit Flexo Concepts at stand 7A27 or TRESU at stand 7D53. More information about TruPoint blades and the XL Blade Holder can be found online at www.flexoconcepts.com and www.tresu.com, respectively.
About Flexo Concepts
Established in 1988 and headquartered in Plymouth, Massachusetts, Flexo Concepts manufactures TruPoint doctor blades and MicroClean™ dry media anilox cleaning systems. All products are designed to improve print quality and reduce operational costs for flexographic and offset printers. Flexo Concepts maintains distribution locations in North America, South America, Europe, Asia, Africa and Australia. For more information about the company and its products visit www.flexoconcepts.com. For regular updates, follow Flexo Concepts on Facebook and Twitter.