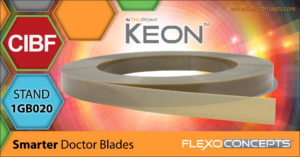 Plymouth, MA, May 14, 2018. Flexo Concepts® is excited to announce that it will introduce its newest doctor blade, TruPoint Keon, at the China International Battery Fair (CIBF) in Shenzhen on May 22-24, 2018.
The blade will make its debut in the market as a high-precision metering blade that can be used to apply the separator film in the manufacture of lithium ion batteries. The specialized Keon blade material is stiff, durable and highly-resistant to heat and abrasive chemicals, making it an excellent choice in this application. An exact lay-down of coating is required to improve the mechanical properties and thermal stability of the separator film, facilitating the charge and discharge of the battery while preventing short-circuiting.
Considered the largest battery fair in the world, CIBF will provide an opportunity for the doctor blade supplier to network with local industry partners. Flexo Concepts' Asian Key Account Manager, Steve Kao, will be available to explain the advantages of using TruPoint Keon and handing out mini-blade samples at the company's stand #1GB020.
To learn more about TruPoint Keon, go to www.flexoconcepts.com. A press kit can be accessed at www.flexoconcepts.com/media.
About Flexo Concepts
Headquartered in Plymouth, Massachusetts, Flexo Concepts manufactures TruPoint® doctor blades and wash-up blades and MicroClean™ dry media anilox cleaning systems.  All products are designed to improve print quality and reduce operational costs for flexographic and offset printers.  Flexo Concepts maintains distribution locations in North America, South America, Europe, Asia, Africa and Australia.  For more information about the company and its products visit www.flexoconcepts.com.  For regular updates, follow Flexo Concepts on Facebook and Twitter.