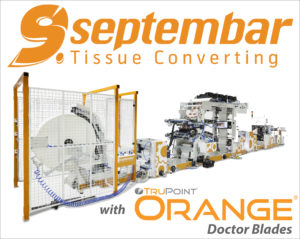 Plymouth, MA, May 21, 2018. Flexo Concepts® is excited to add 9Septembar to its list of equipment manufacturers whose machine performance is optimized with the TruPoint Orange doctor blade.
The blade is being used on the print station of the tissue converting company's napkin production line. After trialing TruPoint Orange doctor blades in this application, 9Septembar Chief Engineer Constructor Branko Brković found they "improved performance of the printing section, increased safety during handling operations and were faster and easier to change than other doctor blades."
Like numerous OEMs, the company will be shipping new napkin machines with the TruPoint Orange blade.  Brković went on to say, "We are satisfied with the durability of the blades and we see Flexo Concepts as a reliable partner in the future."
Located in Serbia, 9Septembar also manufactures handkerchief-making equipment, slitters and rewinders and sells to over 40 countries worldwide. The company delivers turn-key solutions that  can be customized with a lamination station, a variety of embossing and perforation sections, and wrapping units in addition to print decks with up to 6 colors.
To learn more about TruPoint Orange or request a blade sample, visit Flexo Concepts at www.flexoconcepts.com. To access a complete press kit, go to www.flexoconcepts.com/media.
 About Flexo Concepts
Headquartered in Plymouth, Massachusetts, Flexo Concepts manufactures TruPoint® doctor blades and wash-up blades and MicroClean™ dry media anilox cleaning systems.  All products are designed to improve print quality and reduce operational costs for flexographic and offset printers.  Flexo Concepts maintains distribution locations in North America, South America, Europe, Asia, Africa and Australia.  For more information about the company and its products visit www.flexoconcepts.com.  For regular updates, follow Flexo Concepts on Facebook and Twitter.