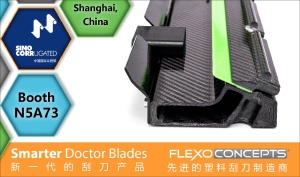 Plymouth, MA, March 29, 2019. As an exhibitor at SinoCorrugated 2019 in Shanghai on April 8-11, Flexo Concepts will promote the benefits of using its TruPoint doctor blades in a wide range of corrugated printing applications.
Among the company's featured blades will be TruPoint Green®, which made its debut in Asia at SinoCorrugated 2017. Green was developed in Flexo Concepts' doctor blade innovation lab as an alternative to steel blades when metering requirements begin to exceed the capabilities of UHMW. TruPoint Orange®, which has had a great deal of success in other flexographic applications, provides high-graphics corrugated printers with an effective, safer and longer-lasting blade substitute for steel.
Asian International Account Manager Steve Kao will be available at the show to make blade recommendations for specific pressroom applications and process requests for blade samples. For more information, visit Flexo Concepts at booth #N5A73 or www.flexoconcepts.com. A complete press kit can be downloaded at www.flexoconcepts.com/media.
About Flexo Concepts
Established in 1988 and headquartered in Plymouth, Massachusetts, Flexo Concepts manufactures TruPoint doctor blades and MicroClean™ dry media anilox cleaning systems.  All products are designed to improve print quality and reduce operational costs for flexographic and offset printers.  Flexo Concepts maintains distribution locations in North America, South America, Europe, Asia, Africa and Australia.  For more information about the company and its products visit www.flexoconcepts.com.  For regular updates, follow Flexo Concepts on Facebook and Twitter.