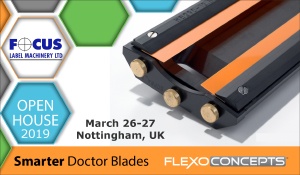 Plymouth, MA, March 14, 2019. As the featured blade supplier, Flexo Concepts will present the benefits of its TruPoint Orange doctor blade at Focus Label Machinery's Open House on March 26-27, 2019. The event, which underscores the importance of digital technology in today's label pressrooms, will take place at the Focus showroom and production facility in Nottingham, U.K.
Focus, along with partners Phoseon Technology and Industrial Inkjet, will showcase the newest UV LED flexo and digital inkjet solutions over the two-day event with workshops and equipment demonstrations running throughout. Ink, anilox, die and other industry product suppliers will be on hand to help printers find solutions in their specific applications.
Flexo Concepts' Bernat Ferrete will present the practical and economic advantages of using TruPoint Orange doctor blades to apply UV inks and coatings in label applications. When selecting a doctor blade to best demonstrate his equipment, Focus Print Technician Colin Ellison has said eliminating spitting and extending blade life are the two primary reasons he chooses Orange.
To learn more about the event, go to www.focuslabel.com. For more information about TruPoint Orange, visit https://www.flexoconcepts.com. A complete press kit can be downloaded at www.flexoconcepts.com/media.
About Flexo Concepts
Established in 1988 and headquartered in Plymouth, Massachusetts, Flexo Concepts manufactures TruPoint® doctor blades and MicroClean™ dry media anilox cleaning systems. All products are designed to improve print quality and reduce operational costs for flexographic and offset printers. Flexo Concepts maintains distribution locations in North America, South America, Europe, Asia, Africa and Australia. For more information about the company and its products visit www.flexoconcepts.com. For regular updates, follow Flexo Concepts on Facebook and Twitter.