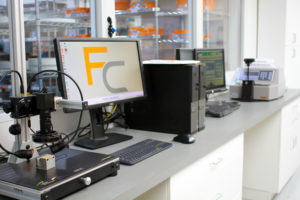 Plymouth, MA, May 24, 2016. Today Flexo Concepts announced the completion of a new state-of-the–art doctor blade innovation lab in its Plymouth, Massachusetts manufacturing facility. The creation of the test center emphasizes the company's commitment to bringing cutting-edge technology to the flexo printing industry.
The innovation lab contains a variety of testing and measuring equipment used to assess the various mechanical properties of materials being considered for new product development. These tests include stiffness, wear, surface roughness and creep, the characteristic that describes how polymer material "relaxes" over time when pushed against a hard surface like an anilox roll.
The lab also houses a special machine to prepare samples for testing as well as high-precision optical and weighing devices to perform used blade analysis. By analyzing worn blades, Flexo Concepts can help customers determine the causes of their metering problems such as too much or little doctor blade pressure or when a doctor blade has been installed at an incorrect angle.
John Ferris, Flexo Concepts' engineering manager, says that, "Unlike some blade manufacturers, our objective is to test blades and blade materials in a way that replicates their use in the field." He added, "We have invested in a combination of custom-designed and standard industry equipment to do just that."
To learn more about Flexo Concepts, visit www.flexoconcepts.com. To access a complete press kit, go to www.flexoconcepts.com/media.
About Flexo Concepts
Headquartered in Plymouth, Massachusetts, Flexo Concepts manufactures TruPoint® doctor blades and wash-up blades and MicroClean™ dry media anilox cleaning systems. All products are designed to improve print quality and reduce operational costs for flexographic and offset printers. Flexo Concepts maintains distribution locations in North America, South America, Europe, Asia, Africa and Australia. For more information about the company and its products visit www.flexoconcepts.com. For regular updates, follow Flexo Concepts on Facebook and Twitter.