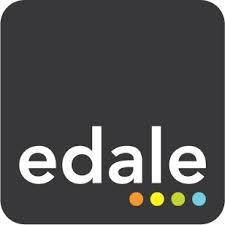 Plymouth, MA, September 18, 2015. Flexo Concepts® announced today that Edale is now shipping its Graphium, FL-3 and FL-5 flexo press models with the TruPoint Orange doctor blade. The blade was chosen to maximize the value of the machines by providing high quality metering and safety benefits. The blade also reduces UV ink spitting in narrow web applications.
Graphium is a hybrid press combining exceptional digital print quality with advanced flexographic technologies, complimented by automated finishing and integrated workflow, providing an efficient total print solution. The performance of the Edale presses is enhanced by the precision metering and safety advantages derived from the TruPoint Orange doctor blade.
"Using TruPoint Orange is an example of how we integrate the leading technologies of other suppliers to help our customers get the best return on their investment," said Darron Shimmons, Print & Technical Services Manager at Edale. "Our presses have been carefully designed to bring efficiency and flexibility to the pressroom. Installing the Orange blade ensures that printers who buy our equipment can maintain a high level of print quality and remain competitive in the marketplace."
With over 50 years of experience in the printing and packaging industry, Edale is a leading designer, manufacturer and supplier of high technology, narrow-mid web flexographic and digital printing presses and converting equipment. Edale's expertise in web transport for single pass inkjet enables technology clients to commercialize their innovations with the essential features and necessary standards demanded by the packaging industry. For more information about Edale, visit www.edale.com.
TruPoint Orange will be featured on two of Edale's presses at Labelexpo Europe. Visit the company at stand 7D39 to find out more about these models and why Orange was selected as the blade of choice.
To learn more about the TruPoint Orange doctor blade, you can visit Flexo Concepts at the show at stand 4B70. To access a complete press kit, go to www.flexoconcepts.com/media.
About Flexo Concepts
Headquartered in Plymouth, Massachusetts, Flexo Concepts manufactures TruPoint doctor blades, the TruPoint QuikWash™ System and wash-up blades, and MicroClean™ dry media anilox cleaning systems. All products are designed to improve print quality and reduce operational costs for flexographic and offset printers. Flexo Concepts maintains distribution locations in North America, South America, Europe, Asia, Africa and Australia. For more information about the company and its products visit www.flexoconcepts.com. For regular updates, follow Flexo Concepts on Facebook and Twitter.