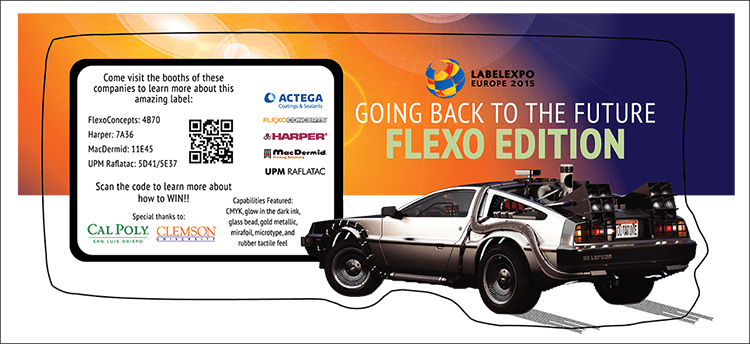 Flexo Concepts and its industry partners have chosen the theme, "Back to the Future," to present the latest advancements in flexo printing technology at Labelexpo Europe 2015.  The piece will be distributed at the show, and visitors interested in learning more about these progressive technologies will be rewarded with a chance to win daily prizes.
In addition to Flexo Concepts, the collaborators included ACTEGA, CalPoly, Clemson, Harper, MacDermid, and UPM Raflatac.  The companies worked together to produce a printed sample that demonstrates the impressive capabilities of today's flexographic printers.  The eye-catching piece is a platform for the companies to show off their newest innovations from substrate to press to specialty finishes.
The team decided on the movie theme to honor the 30th anniversary of Labelexpo Europe's move to Brussels and to pay tribute to the 1980s hit film series, "Back to the Future."  In the trilogy, time travel lands Michael J. Fox's character, Marty McFly, 30 years in the future in the year (and month of October!) 2015.  The marketing piece features the legendary time machine, a futuristic DeLorean.  The remarkable changes that occurred over that 3-decade period in the movie are meant to reflect the dramatic improvements that have recently taken place in the flexographic print industry.
LabelExpo Partner Contributions
The inks and coatings were supplied by ACTEGA.  The company's ACTExact® UV process inks are G7 center-line, balanced colors using the cleanest pigments dispersed into a true, liquid rheology ink product.  Its PharmaFlex® Avalanche UV white is a high opacity ink formulated to trap colors cleanly onto a smooth, even surface.  MiraFoil® UV silver, a brilliant, trappable metallic ink, is formulated with a proprietary aluminum flake engineered for optimum reflectance in the ink structure.  ACTEGA's PureFlex® UV gold is a bright, true gold color dispersed into a low viscosity, easy to use base.  Its GlossCoat® UV curable special effects products include Glow-in-the-Dark, Optically Variable colors and proprietary Glass/Pearl technology, and Rad-Kote® UV is a curable tactile special effect coating that emulates a rubber feel.
CalPoly was responsible for creating the design, and Clemson University printed the samples at its Sonoco Institute of Packaging and Graphics using its Omet Varyflex press running 125 fpm (38 mpm).
Flexo Concepts' TruPoint Orange® doctor blade was used to produce the fine microtext and apply the specialty inks and coatings to the piece.  The next generation polymer blade has a "MicroTip®" edge which is capable of achieving a fine contact area with the anilox roll for a more effective wipe.  Orange is considered a replacement for steel in narrow web applications and has been proven effective at eliminating UV ink spitting and reducing pressroom injuries.
Harper Corporation of America supplied its anilox technology for the process and specialty ink.  Harper's XLT-60° engravings were used for the CMYK sections.  Also supplied were a range of other XLT engravings along with various LaserKote anilox engravings needed to print the various specialty inks.
The piece was printed using a LUX ITP 60 printing plate from MacDermid.  LUX ITP 60 is the only plate currently available in the industry to offer flat-to dots built directly into the plate, with no additional steps or equipment necessary.  LUX flat-tops from MacDermid provide improvements in print quality and consistency.  The plate used at the white print station for this piece was Digital MWW from MacDermid.  Digital MWW is a revolutionary new plate from MacDermid that offers increased opacity and decreased mottle for white ink laydown.
UPM Raflatac provided the substrate for the project.  The company's new VANISH™ TC ultra-thin, ultra-clear polyester films are the ideal choice for the no-label look on rigid containers in applications where both clarity and resistance against water, oil and chemicals is essential.  Featuring a 0.92 mil top-coated PET face, which is smoother than traditional polypropylene materials, these label stocks provide excellent ink adhesion and a perfect canvas for UV flexo, water-based flexo, cold foil and other complex print methods and imagery.
Be sure to travel "Back to the Future" and learn more about the latest advancements in flexo printing at Labelexpo Europe 2015.  Watch for the creative piece at the show for more information about these industry suppliers and their stand locations.