Kevin McLaughlin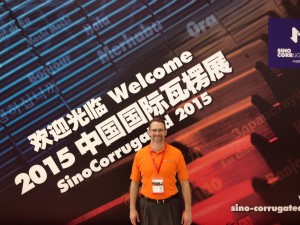 April was a highlight of our corrugated marketing efforts in the Far East as Flexo Concepts® supported its Asian distributors at SinoCorrugated 2015. Taking place every two years, the event is known for showcasing a plethora of the latest in corrugated machinery and equipment among a lively atmosphere of partnering, relationship building and business transacting.
Our Asian Key Account Manager, Steve Kao, and I took advantage of our four days at the show to make our way around the 67,000 square meters of exhibition area filled with more than 600 exhibitors. We were two of over 40,000 local and international attendees who had come to see some 1,400 pieces of corrugated manufacturing equipment and check out some 1,000 consumable products.
A large part of the reason for our visit was to support our Asian distributors who were exhibiting at the show: GrandCorp Group, Guangzhou Ming Yang and Guangzhou Ruijian, a doctor blade chamber OEM that also featured our blades on their equipment. We are grateful for their continued promotion of the benefits of our doctor blade products. We would like to thank two additional chamber manufacturers, Baoqi and Corupak, who also featured our TruPoint™ blades on their equipment.
As China's economic development continues to outpace the rest of the world and the country maintains its status as the largest corrugated market, we believe that Flexo Concepts is well-positioned to enjoy sustained growth in the region. Our company has been actively selling its non-metallic doctor blades in China for over 14 years and is currently a major supplier to the local corrugated OEMs. As a result, TruPoint has become the leading doctor blade brand. At SinoCorrugated this year, we took the opportunity to introduce our newest blade, TruPoint Orange®, to the corrugated market. This product has been very successful in narrow web flexo applications as a safe and longer-lasting substitute for steel. Early testing has shown that these benefits also transfer to corrugated high-end graphics applications.
Again this year, SinoCorrugated lived up to its reputation as "the largest business platform for the global corrugated manufacturing industry." Having shown steady growth since 2001 in terms of the number of visitors and exhibitors, machines on display and show area, I think all would agree that the show is worthy undertaking. I know the event was a big success for Flexo Concepts, and we look forward to returning in 2017!