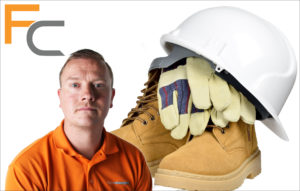 One of Flexo Concepts' most important cultural values relates to its people and keeping them safe is one of its highest priorities. For this reason, the company has established a "Safety Team" and protocols throughout the building to create and maintain a safe environment for its employees.
Today we will talk with Manufacturing Manager Adam Yock to learn more about what Flexo Concepts does to keep workers safe.
Adam, can you tell us about the Safety Team and their responsibilities?
The Safety Team consists of five members from the production staff who meet on a regular basis to review the overall safety of the premises and address any areas of concern. As the manufacturing manager, I perform random safety audits to identify risks and make suggestion tickets available for employees to communicate any safety concerns they may have. The tickets are posted on a master board in the shop, tracked through our CRM system and attended to by the Safety Team. Safety tickets receive immediate attention and take priority over ideas for needed repairs or continuous improvement posted on the board.
What are some of the safety measures you have in place in the manufacturing area?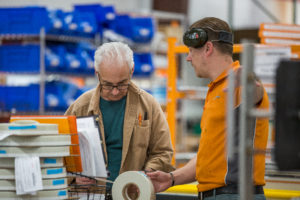 On the manufacturing floor, there is a wide variety of safety equipment available to protect workers from injuries. All our machines are guarded at the cutters to keep operators from being hurt and prevent loose pieces of blade scrap from flying into the air. Ear plugs or muffs are worn by employees running the blade cutting equipment to protect from the loud machine noise. There are anti-slip mats throughout the shop and anti-fatigue mats in all blade fabrication areas. Bench heights are kept at a comfortable height that allows the operators to work without being hunched over, and windows have been installed in doors entering/exiting the shop to prevent someone from being hit by a door being opened from the opposite side.
The company purchased flow racks for the storage of raw material to reduce the need for workers to bend when picking material, and an automated conveyor system makes it easy to move heavy boxes from the production lines to the shipping area. Flexo Concepts also installed a Dura-Vac central trim collection system to gather and dispose of manufacturing waste, eliminating the need to physically remove blade scrap from the workstations.
We also use 5S practices which not only drive efficiency but also a continuously tidy and safer shop environment. The company has structured, documented procedures and shop floor workforce training programs in place to ensure that blade fabrication, order fulfillment and scrap removal are done properly and safely. All manufacturing employees are formally trained and certified in the proper use of forklift equipment.
How do you communicate safety procedures with your employees?
Safety procedures are communicated through monthly team meetings, quarterly company meetings, building-wide notices and training events. Evacuation procedures and instructions specific to each department are posted throughout the facility. Also, the Safety Team sends out safety tip sheets to all employees before each major holiday to help protect them and their families from accidents at home.
Do guidelines change and evolve over time, and if so, how?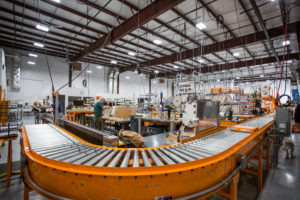 Flexo Concepts takes pride in being proactive when it comes to safety. Our company stays in compliance with Osha guidelines and has outsourced the management of some of our safety initiatives to vendors. Through contracts with providers such as CINTAS and Yankee Sprinkler, our equipment specifications and instructions are continuously monitored and kept up to date. For example, Cintas has installed a first aid station in our shop, including AED technology with on-site monthly service to maintain the device. Yankee Sprinkler is under an annual contract with Flexo Concepts to maintain our fire protection system. Both companies provide regular training for our staff on the proper use of this equipment.
How successful has your company been with plant safety?
Flexo Concepts continues to be very successful with its safety protocol as indicated by our low injury rates and minimal lost-time accidents. Since establishing a Safety Team dedicated to this important aspect of our business, the number of accidents that occur in our building has been reduced to almost zero. We are proud of our great track record and feel confident that the safety systems and procedures we have in place will keep it that way!
To learn about how using plastic doctor blades can improve safety and reduce costs in your pressroom:
[Read our white paper, "The [Hidden] Costs of Using Steel Doctor Blades"]