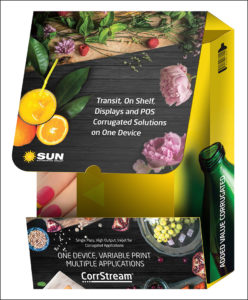 Our first post in the Corrugated Converters at the Crossroads blog series looked at changes in the corrugated printing market, the factors driving them and how big-box retailers and CPCs are increasing their requirements of packaging suppliers. The major areas of change range from graphics quality to flexibility to velocity, and pressroom versatility is the name of the game.
The final post in our series will explore how digital printing is becoming a key player in the corrugated evolution, with added insight from Paul Aliprando, VP of Digital Technologies at Sun Automation Group. Expanding with digital technology can help printers meet demands for short runs, fast turnarounds, stunning graphics and customization without sacrificing efficiency or, more importantly, profits.
A new take on old news
Digital printing is already being used in corrugated plants to produce samples, prototypes and other one-off or small-batch jobs due to its relatively cheap cost to produce shortruns compared to flexo. But the use of digital technology is ramping up as a growing number of jobs creep into its sweet spot – high resolution graphics, smaller order sizes, short lead times, fast turnarounds, customization and personalization.
Aliprando says, "some users are applying digital to increase value to their customers which allows higher product margins. Other users apply digital as an alternative to current methods for lower total production costs. Either way, money is the motivator."
Let's take a look at the ways digital technology is having the biggest impact in the corrugated post-print sector:
High resolution graphics
High-definition visuals, desired by today's brand owners to create product differentiation and appeal, require high-resolution printing. A flaw with Flexo is as the sheet moves through each color station in the press, it shifts slightly, making it impossible to overlap every ink color and produce the image exactly as it was designed. Bleeds and traps have to be incorporated into the design to hide the registration issues.
Aliprando states, "In general, Digital has a higher resolution than 'standard' Flexo for corrugated.  Although there are excellent flexo machines capable for printing Process work direct to corrugated, the cost, maintenance and operation knowledge is specialized."
With a digital printer, images are printed in one pass.  There are no registration issues and minimal dot gain, making digital printing a better option for  reducing waste and producing images with high graphic resolution – especially with gradients and very detailed print that requires fine lines or images.
Smaller order sizes

The digital process offers an economical way to produce low-volume and custom print jobs. With flexo presses, high setup costs are offset by their faster speeds and lower production costs over a high-volume, long run job.
But digital presses are much more agile and a smarter choice for small print lots. The image is transferred directly onto a substrate, with no print cylinders, die-cut tooling, plates, ink tanks, anilox rolls, doctor blades or complex set up processes.
Short lead times and fast turnarounds
The quick and easy set-up of a digital press also makes it conducive to short lead times and fast turnarounds. Remember flexo's cumbersome and expensive setup process – creating plates, filling the ink tank, assembling the ink roll and print cylinder? Digital files can be easily created, changed or updated so customers can request new or custom packaging on short notice or make changes on the fly. The full CYMK spectrum is readily accessible and producing gradients and other detailed effects is easy. Less waste…
Brands need responsive suppliers that can meet their needs for speed and versatility.
The flexibility that digital printing brings to the corrugated pressroom can also turn the package printer into a value-added service provider. With short lead times and fast deliveries, CPGs and big-box retailers can keep inventory levels low to save on warehousing and prevent outdated stock. However, Aliprando urges printers to consider the additional converting process with digital printing, stating "an added requirement for the corrugated facility is converting the printed sheet into a box. The digital printer is just that, a printer."
Customization and personalization
Although, "Digital has its own 'specialization'… it is offset by the variability and versatility digital allows," says Aliprando.  With digital, versioning is simple to execute – brands can customize graphics for multiple adaptations of the same package based on the audience, season, geography, event, market or any other segmentation criteria. The full range of CMYK colors are readily accessible for quick changes. Variable data – personalization with customer names, product expiration dates or any varying data used to personalize packages – is a snap to produce on a digital press.
Things to Consider
The Rise of Digital is a hot topic in the industry, and like many others, you may be hesitant to incorporate digital printing in your pressroom. Aliprando advises to "stay hesitant and get knowledgeable.  Take the time to increase your understanding and knowledge of the complete digital process.  You need to be comfortable about the technology and, once comfortable, decide if it fits into your current market or a new market you may want to pursue." Aliprando adds, 
"Ask yourself if your current manufacturing operation – order receipt to shipping – can accommodate digital. Digital is not for the faint of heart."
By adding digital printing capability to the corrugated pressroom, printers can optimize efficiency and profitability by using the "right man for the job" every time.  And that is just the tip of the iceberg – Digital press manufacturers are continually improving the digital print process with new technologies.
In October 2018, Sun Automation will introduce the new CorrStream®, which will have a new Aqueous ink set, capable of printing on standard white top sheets and clay coat for more "pop" to the printing. The new system allows 600dpi printing without any pre or post coating of the sheets and boasts a modular design, equipped to accommodate future system upgrades. "Obsolescence is not in our design", comments Aliprando.
All in all, Digital Printing gives Corrugated Converters a cost-effective way to meet the market's demands for flexibility and responsiveness. At the same time, the flexo presses are freed up to do what they do best – crank out large volumes of standardized products at fast speeds and low cost.
To sum up our Corrugated Converters at the Crossroads blog series, the logic is simple: what the consumers want, the manufacturers have to produce, and what the manufacturers want, the suppliers have to provide. The corrugated converting industry has responded to this market evolution with advancements in ink delivery, equipment, substrates, and digital processes to name a few. By adopting these market innovations, converters can embrace the market evolution as a great opportunity for not only survival, but future growth and prosperity.
For more information on Sun Automation and the new Corrstream Digital Printer, contact Paul Aliprando at [email protected].
We hope you enjoyed our Corrugated Converters at the Crossroads blog series. Click on the links below to view previous posts in the series:
Part 1: "The Consumer Is King" – Read about the forces behind the corrugated package printing renaissance
Part 2: "Necessity Is the Mother of Ink Delivery Innovation" – Read about ink delivery system innovations
Part 3: "This Is Not Your Father's Pressroom" – Read about innovations in equipment and substrates