Markets
Corrugated
Envelope
Coating & Laminating
Specialty Applications
TruPoint UHMW Doctor Blade
The Original Ultra-High-Molecular-Weight Polyethylene Doctor Blade
Our original UHMW doctor blade offers a dense molecular structure that is ideal for applications combining long runs, coarse engravings and abrasive coatings or inks. The soft, thick UHMW doctor blade material is safe to handle and extremely abrasion-resistant, allowing for superior blade life.  Although the UHMW doctor blade was originally created for corrugated printing applications, the UHMW doctor blade has also found success in other markets such as Specialty Coating, Envelope and Custom Applications due to its wear resistance, superior doctor blade life and safety characteristics. Being the first company to develop a beveled edge on a UHMW doctor blade, Flexo Concepts is the world's largest supplier of UHMW doctor blade products. 
Sample our TruPoint UHMW doctor blade for free today
and see the quality of TruPoint doctor blades for yourself!
TruPoint UHMW Doctor Blade Features
TruPoint UHMW offers Superior Blade Life
TruPoint plastic and polymer doctor blades are generally known to outlast traditional steel doctor blades, due to the natural durability of plastic. The TruPoint UHMW doctor blade material has a dense molecular structure that is thick, soft and  abrasion-resistant which gives the doctor blade extremely long blade life.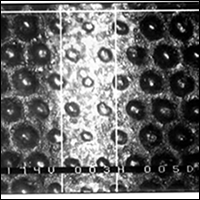 TruPoint UHMW does not Damage the Anilox Roll
A costly concern with using steel doctor blades is the potential for anilox roll scoring. Compared to steel, TruPoint UHMW does not crack or splinter, causing roll scoring or premature wear. The material, although durable, is soft and will not damage the anilox roll or cause particles within your ink.
To better understand anilox roll scoring, Click Here  to view our blog post on "Anilox Roll Scoring".
TruPoint UHMW is Safe to Handle
You can significantly reduce press room injuries by replacing steel doctor blades with safe TruPoint doctor blades. The properties of the doctor blade material reduce the risk of injury when installing and removing doctor blades from the press.
To better understand the risks associated with steel doctor blades, Click Here to download our White Paper on "The Hidden Costs of Using Steel Doctor Blades".
TruPoint UHMW Standard Dimensions (custom dimensions available)
Thickness
Profile

Max. Width

Max. Length

.030″ / .8mm | .040″ / 1mm
.050″ / 1.25mm | .060″ / 1.6mm
.070″ / 1.8mm | .080″ / 2mm
.090″ / 2.3mm | .100″ / 2.54mm
.125″ / 3.2mm

Bevel – 30° :: 45°
Straight*
DACC (Lamella)**

*.020″ / .5mm only
** Not available in .020″/.5mm , .030″/.8mm & .040″/1mm

4″ / 101.6mm
100′ / 30m