Markets
Wide Web
Coating & Laminating
Narrow Web
Envelope
Corrugated
New Energy / Technology
Specialty applications
TruPoint Polyester Containment Blade
The Ideal Containment Blade
The TruPoint Polyester containment blade is a durable, long-life blade designed to replace steel and reduce anilox scoring and back doctoring in chambered doctor blade systems.  The flexibility and durability of the polyester blade material are at the core of its success as a containment blade. Choosing polyester containment blades over steel is a smart way to save money, improve safety and reduce your facility's environmental impact.
Request a Free Sample of the TruPoint Polyester containment blade and trial this long-life blade in your ink chamber today.
TruPoint POLYESTER CONTAINMENT Blade Features
Polyester's Flexibility allows ink BACK into the Chamber
Steel blades are stiff and rigid, therefore they struggle with allowing ink to pass underneath the blade and back into the chamber. This causes ink to build up on the back side of the blade, pool at the end of the chamber and eventually sling onto the press and web.
Printers can eliminate trail doctoring by using polyester containment blades.  The polyester material is equally effective at containing ink in the chamber but thin and flexible enough to let back-doctored ink return to the chamber.
To learn more about back doctoring, Click Here  to view our blog post on "Back Doctoring – A Pain in the Backside."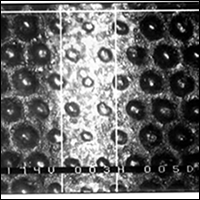 TruPoint Polyester will not Damage the Anilox Roll
A costly concern with using steel doctor blades is the potential for anilox roll scoring. Polyester containment blades will not score or damage anilox rolls. The material is soft and contains no sharp fragments which can break off, become lodged against the roll and destroy the engraving as the roll turns. The material is non-abrasive and won't cause excessive wear on the roll.
To better understand anilox roll scoring, Click Here  to view our blog post on "Anilox Roll Scoring".
TruPoint Polyester Outlasts Steel Containment Blades
TruPoint plastic and polymer blades are generally known to outlast traditional steel blades, due to the natural durability of plastic. The TruPoint Polyester blade material is extremely flexible, resilient and  abrasion-resistant, allowing this containment blade to outlast steel.
TruPoint Polyester is more Eco-Friendly than Steel
During production, polyester containment blades emit a small percentage of carbon dioxide compared to steel blades. The added features that reduce ink and substrate waste, also contribute to the green aspects of polyster. Using polyester containment blades can help printers meet requirements for reducing their carbon footprint.
To better understand how your doctor blades could help you reduce your carbon footprint, Click Here to view "The Environmental Impact of Doctor Blades" infographic.
TruPoint Polyester is Safe to Handle
You can significantly reduce press room injuries by replacing steel containment blades with safe TruPoint Polyester blades. The properties of the blade material reduce the risk of injury when installing and removing blades from the press. Polyester containment blades may be used with steel doctor blades, but combining polyester  blades with any of our TruPoint doctor blades significantly reduce the risk of injury to operators and the anilox roll.
To better understand the risks associated with steel doctor blades, Click Here to download our White Paper on "The Hidden Costs of Using Steel Doctor Blades".
TruPoint Polyester Standard Dimensions (custom options available)
Thickness
Profile

Max. Width

Max. Length

.007″ / .19mm
.015″ / .37mm
.020″ / .5mm
Straight
Bevel – 15º
3″ / 76.2mm
330′ / 100m
Cut-To-Length available