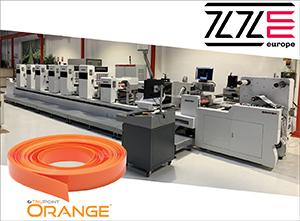 Plymouth, MA, January 14, 2021. Flexo Concepts® announced today a strong endorsement of its TruPoint Orange doctor blade from label press seller, Zonten Europe, SLU. The company has selected the blade to demonstrate the performance of its high-value label equipment and is including the blade in all new press installations.
Located in Barcelona, Zonten Europe, SLU began operating in 2018 in partnership with Zonten, a recognized brand specialized in the manufacture of roll-to-roll offset printing and narrow web finishing machines. The TruPoint Orange doctor blade was selected over other blades to optimize the performance of its equipment. The next-generation polymer blade with a MicroTip® edge offers a multitude of benefits to customers: reduced anilox scoring, elimination of UV ink spitting, longer blade life and improved safety for press operators.
With over 200 installations to date, Zonten Europe, SLU delivers comprehensive solutions and provides high-level technical service to the label market in Europe (except the Balkans) and South America. The company also maintains a permanent showroom, a customer support hotline and spare parts distribution in its Barcelona facility.
To learn more about Zonten Europe, SLU or make an appointment to see a live demo, visit zonten-europe.com. More information about TruPoint Orange doctor blades can be found at www.flexoconcepts.com/orange-doctor-blade.
About Flexo Concepts®
Established in 1988 and headquartered in Plymouth, Massachusetts, Flexo Concepts manufactures TruPoint doctor blades and MicroClean™ dry media anilox cleaning systems. All products are designed to improve print quality and reduce operational costs for flexographic and offset printers. Flexo Concepts maintains distribution locations in North America, South America, Europe, Asia, Africa and Australia. For more information about the company and its products visit www.flexoconcepts.com. For regular updates, follow Flexo Concepts on Facebook and Twitter and LinkedIn.