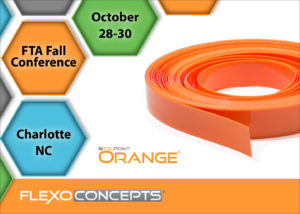 Plymouth, MA, October 21, 2019. At FTA's Fall Conference later this month, Flexo Concepts® will continue to promote the advantages of its TruPoint® premium doctor blades as high-performance options that are safer and last longer than steel.
Shipping standard with many new press installations, TruPoint Orange® blades meter high anilox line screens effectively and prevent common problems such as UV ink spitting in narrow web pressrooms. For corrugated printers, better spring memory and stiffness make TruPoint Green® doctor blades a good substitute for UHMW in applications that require mid-level graphics quality.
To learn more or request a blade sample, visit Flexo Concepts at the show or go to www.flexoconcepts.com. To access a complete press kit, go to www.flexoconcepts.com/media.
About Flexo Concepts
Established in 1988 and headquartered in Plymouth, Massachusetts, Flexo Concepts manufactures TruPoint® doctor blades and MicroClean™ dry media anilox cleaning systems. All products are designed to improve print quality and reduce operational costs for flexographic and offset printers. Flexo Concepts maintains distribution locations in North America, South America, Europe, Asia, Africa and Australia. For more information about the company and its products visit www.flexoconcepts.com. For regular updates, follow Flexo Concepts on Facebook and Twitter.