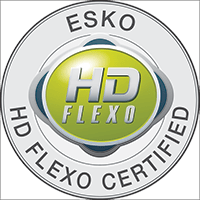 Plymouth, MA, August 31, 2015. Flexo Concepts is excited to announce that it has been named an HD Flexo Certified Vendor by Esko for its TruPoint Orange doctor blade. Orange is the first non-metallic blade to receive this certification.
To become certified, Flexo Concepts submitted print samples with specifications to Esko's Izahof, Germany certification center. HD specialists evaluated the work and validated the doctor blade with their HD Flexo certification.
Pioneered by Esko, HD Flexo is a revolutionary new process for making digital flexographic printing plates that produce higher quality print and more consistency than standard digital plates. The process combines 4000 dpi HD optics with unique printing screening technologies to achieve sharper and more accurate imaging.
According to Esko, "Bringing consistency, vibrant colors and increased print quality, HD Flexo raises the industry standard in flexo printing." It is widely regarded as the next step in the evolution of flexography and is believed to put this printing method on par with other printing methods: "Flexo printing can now compete with offset for quality labels and with gravure printing for flexible packaging."
For more information about Flexo Concepts' TruPoint Orange doctor blade, visit the company at Labelexpo Europe 2015 in stand 4B70 or www.flexoconcepts.com. To access a complete press kit, go to www.flexoconcepts.com/media.
About Flexo Concepts
Headquartered in Plymouth, Massachusetts, Flexo Concepts manufactures TruPoint doctor blades, the TruPoint QuikWash™ System and wash-up blades, and MicroClean™ dry media anilox cleaning systems. All products are designed to improve print quality and reduce operational costs for flexographic and offset printers. Flexo Concepts maintains distribution locations in North America, South America, Europe, Asia, Africa and Australia. For more information about the company and its products visit www.flexoconcepts.com. For regular updates, follow Flexo Concepts on Facebook and Twitter.