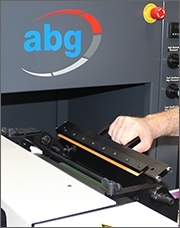 A.B. Graphic International is now shipping its Digicon Series 2 and Digicon Lite machines with the TruPoint Orange doctor blade. The label industry finishing equipment OEM selected Orange over other blade products due to its extended blade life and safety.
Established in 1954 in the U.K., A B Graphic International is a market-leading producer of label and package printing converting equipment. The company's fully-modular Digicon Series 2, considered the most advanced and diverse on the market, combines semi-rotary technology with accurate re-registration modules for a variety of digital converting applications. Capabilities include hot foil, cold foil, flexo coating, screen printing and lamination. The Digicon Lite, an entry-level model, provides varnishing, coating and converting of digitally printed webs.
Flexo Concepts' TruPoint Orange blades are used in the Digicon Series 2 and Digicon Lite flexo stations, which apply basic coatings and varnishes. Orange was chosen over steel for its superior blade life and safety characteristics and has become the sole blade shipped with all new machine installations.
A.B. Graphic was one of several OEMs that showcased TruPoint Orange at Labelexpo 2013. The blade was featured on five of the company's coating units throughout the show.
To learn more about TruPoint Orange, visit www.flexoconcepts.com/orange. To access a complete press kit, go to www.flexoconcepts.com/aboutus/media.php.
About Flexo Concepts™
Headquartered in Plymouth, Massachusetts, Flexo Concepts™ manufactures TruPoint™ doctor blades, the TruPoint™ QuikWash™ System and wash-up blades, and MicroClean™ dry media anilox cleaning systems. All products are designed to improve print quality and reduce operational costs for flexographic and offset printers. Flexo Concepts™ maintains distribution locations in North America, South America, Europe, Asia, Africa and Australia. For more information about the company and its products visit www.flexoconcepts.com.