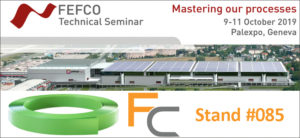 Plymouth, MA, October 1, 2019. Flexo Concepts® will continue to promote the benefits of its TruPoint Green doctor blade as a replacement for steel at the FEFCO Technical Seminar 2019 in Geneva.
As graphics requirements continue to grow, corrugated printers are looking for a doctor blade that will meter anilox line screens between where UHMW is effective and where steel is required. Green offers printers an alternative to steel in these mid-level graphics applications. The custom-compounded material demonstrates better stiffness than UHMW and superior wear rates and safety compared to steel.
Flexo Concepts' Sales Representatives Bernat Ferrete and Arnoud deJong will be available at the company's stand #085 to answer questions and hand out blade samples. Bernat will be presenting "The Importance of Correct Doctor Blade Selection and Installation" during the spotlight session part of the event (session #4) on October 10th. Attendees will learn about choosing the right blade material, thickness and tip for an application and ensuring the blade is properly installed for optimal results.
For more information, visit Flexo Concepts at stand #085 or go to www.flexoconcepts.com. A press kit can be downloaded at www.flexoconcepts.com/media.
About Flexo Concepts
Established in 1988 and headquartered in Plymouth, Massachusetts, Flexo Concepts manufactures TruPoint® doctor blades and MicroClean™ dry media anilox cleaning systems. All products are designed to improve print quality and reduce operational costs for flexographic and offset printers. Flexo Concepts maintains distribution locations in North America, South America, Europe, Asia, Africa and Australia. For more information about the company and its products visit www.flexoconcepts.com. For regular updates, follow Flexo Concepts on Facebook and Twitter.