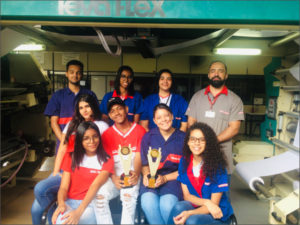 Plymouth, MA, November 19, 2019. Flexo Concepts' Brazilian trade school partner, SENAI-Cecoteg, was one of three finalists – taking home the top award in two categories for exceptionally high-quality printing – in an important local flexo competition.
The pieces submitted for the Prêmio Qualidade Flexo Prof. Sergio Vay 2019 Award were produced by the students of the Industrial Learning in Flexographic Printing course. For one of the samples, Instructor Marcelo Pereira da Silva's team raised the competitive value by adding a "scrape-and-smell" varnish with an encapsulated flower essence. The piece was printed on a Feva flexo press using Flexo Concepts' TruPoint Orange® doctor blades.
Since 2008, the award has been granted by ABFLEXO – an independent organization – to the best-performing companies and schools in flexo printing. The awards ceremony,  held on November 8th this year, is traditionally recognized as the largest annual event of the Brazilian flexo industry.
SENAI-Cecoteg works with its partners to assimilate and share new technologies to support the Brazilian printing market. The course of Industrial Learning in Flexographic Printing is a distinguished area within the school, being awarded the Prêmio Qualidade Flexo Prof. Sergio Vay prize for quality in flexography eight times previously for works printed by the students.
Flexo Concepts, a company whose TruPoint® products occupy a key position in the global flexo printing industry, partnered with the organization earlier this year to promote the benefits of its doctor blade innovations in Brazil and advance the market in the region.
To learn more about SENAI-Cecoteg, visit www.facebook.com/CECOTEG. For more information about Flexo Concepts and TruPoint doctor blades, go to www.flexoconcepts.com.
About Flexo Concepts®
Established in 1988 and headquartered in Plymouth, Massachusetts, Flexo Concepts manufactures TruPoint® doctor blades and MicroClean™ dry media anilox cleaning systems.  All products are designed to improve print quality and reduce operational costs for flexographic and offset printers.  Flexo Concepts maintains distribution locations in North America, South America, Europe, Asia, Africa and Australia.  For more information about the company and its products visit www.flexoconcepts.com.  For regular updates, follow Flexo Concepts on Facebook and Twitter.