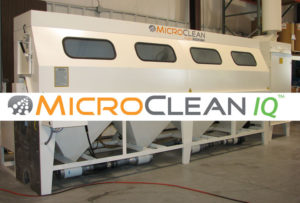 Plymouth, MA, January 26, 2017. Flexo Concepts® announced the latest innovation to its MicroClean Anilox Roll Cleaning Machine: "MicroClean IQ." MicroClean IQ is a human machine interface (HMI) that handles interactions between the machine and the operator and makes the anilox cleaning process even easier for users.
MicroClean IQ can be programmed with 30 "recipes," or customized roll descriptions, in addition to roll specifications. Enhanced special cleaning options make it possible to isolate specific sections of the roll for extra cleaning, and operators are now able to pause and re-start a cleaning cycle as well as track remaining cleaning time. The new system will record all roll cleaning history and make recommendations for cleaning cycles and routine maintenance. All of these features, plus troubleshooting, are accessible directly through the touch screen display.
MicroClean is a dry, off-press system that uses air pressure to apply plastic media to remove dried ink and coating from anilox cells. In operation worldwide for 25 years, MicroClean machines remain the best off-line anilox cleaning option in terms of cost, maintenance and eco-friendliness in many flexo printing applications. MicroClean IQ is standard on all new models and the company will be offering upgrades for existing equipment.
For more information about MicroClean or see a video of the technology, visit www.micro-clean.com. To access a complete press kit, go to www.flexoconcepts.com/media/.
About Flexo Concepts
Headquartered in Plymouth, Massachusetts, Flexo Concepts manufactures TruPoint® doctor blades and wash-up blades and MicroClean™ dry media anilox cleaning systems. All products are designed to improve print quality and reduce operational costs for flexographic and offset printers. Flexo Concepts maintains distribution locations in North America, South America, Europe, Asia, Africa and Australia. For more information about the company and its products visit www.flexoconcepts.com. For regular updates, follow Flexo Concepts on Facebook and Twitter.