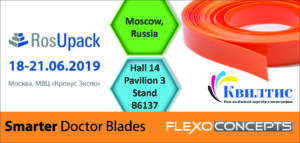 Plymouth, MA, June 10, 2019. Flexo Concepts' Russian distribution partner, Kviltis, will promote the benefits of TruPoint doctor blades in flexographic printing applications at RosUpack 2019 on June 18-21 in Moscow.
At the show, Kviltis will feature the TruPoint Orange® doctor blade with MicroTip® technology as a high-performance blade that can replace steel in flexible packaging and label printing applications. Compared to steel, Orange has excellent safety and blade life benefits and can solve a number of common press problems including UV ink spitting.
The latest corrugated doctor blade innovation from Flexo Concepts®, TruPoint Green® will also be among the products on display by Kviltis in Pavilion 3 Hall 14, Stand B6137. With good spring memory, safety and blade life, Green is a simple drop-in replacement blade for printers who want to produce mid-level graphics without having to run steel.
Located near Leningrad, Kviltis produces flexographic inks for marking sausage and sausage casings, flexible packaging and self-adhesive labels. In addition, the company supplies spare parts for printing equipment as well as printing consumables such as TruPoint doctor blades.
To learn more about TruPoint doctor blades, visit Kviltis at RosUpack or go to www.flexoconcepts.com. A complete press kit can be downloaded at www.flexoconcepts.com/media.
About Flexo Concepts
Established in 1988 and headquartered in Plymouth, Massachusetts, Flexo Concepts manufactures TruPoint doctor blades and MicroClean™ dry media anilox cleaning systems. All products are designed to improve print quality and reduce operational costs for flexographic and offset printers. Flexo Concepts maintains distribution locations in North America, South America, Europe, Asia, Africa and Australia. For more information about the company and its products visit www.flexoconcepts.com. For regular updates, follow Flexo Concepts on Facebook and Twitter.