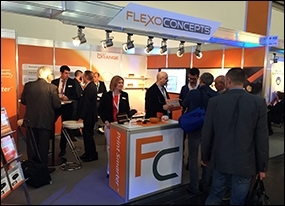 Plymouth, MA, March 27, 2015. Flexo Concepts® TruPoint Orange doctor blade generated a great deal of interest from flexo printers and gravure coaters and converters at ICE Europe 2015.
"It was our second time exhibiting at this show and our success there was beyond my expectations," said Kevin McLaughlin, president of Flexo Concepts. "We found the applications a good fit with our technology, and the quality of the conversations was exceptional."
In a wide variety of flexo printing and gravure coating applications, TruPoint™ doctor blades provide greater wear resistance and longer blade life than steel blades. For the tightest printing and coating tolerances, TruPoint Orange combines a next generation polymer material with a MicroTip® edge to deliver the metering quality of steel with the blade life and safety benefits of a traditional plastic doctor blade.
Recyl, Flexo Concepts' distributor in France, Germany and Austria, also represented Orange on its stand at the show. In addition, the blade was featured on the corrugated side in the CCE International Exhibition Hall. The Italian OEM, Packaging Plast, showcased the blade on its carbon fiber doctor blade system. The company recently began shipping all of its carbon fiber chambers standard with the Orange doctor blade.
Visit www.flexoconcepts.com for more information about Flexo Concepts and TruPoint Orange. To access a complete press kit, go to www.flexoconcepts.com/aboutus/media.
About Flexo Concepts
Headquartered in Plymouth, Massachusetts, Flexo Concepts manufactures TruPoint doctor blades, the TruPoint QuikWash™ System and wash-up blades, and MicroClean™ dry media anilox cleaning systems. All products are designed to improve print quality and reduce operational costs for flexographic and offset printers. Flexo Concepts™ maintains distribution locations in North America, South America, Europe, Asia, Africa and Australia. For more information about the company and its products visit www.flexoconcepts.com.