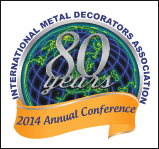 Flexo Concepts announced plans today to attend the IMDA annual conference event on May 21-22, 2014 in Bloomingdale, IL.
As an exhibitor, the company will promote its TruPoint Orange doctor blade in 3-piece metal decorating applications. Orange is used in offline anilox conversion units to apply coating to steel sheets before they are printed and fabricated into cans and other packaging.
By precisely metering the coating from the anilox roll, the Orange blade gives the printer more control over the volume of coating being applied to the sheet for better quality and reduced coating consumption. It also lasts longer than other blades and can withstand the harsh properties of the coating chemistries.
To learn more about TruPoint Orange or to request a blade sample, visit Flexo Concepts at the conference, go to www.flexoconcepts.com or call 508.830.9506. To access a complete press kit, go to www.flexoconcepts.com/aboutus/media.php.
About Flexo Concepts™
Headquartered in Plymouth, Massachusetts, Flexo Concepts™ manufactures TruPoint™ doctor blades, the TruPoint™ QuikWash™ System and wash-up blades, and MicroClean™ dry media anilox cleaning systems. All products are designed to improve print quality and reduce operational costs for flexographic and offset printers. Flexo Concepts™ maintains distribution locations in North America, South America, Europe, Asia, Africa and Australia. For more information about the company and its products visit www.flexoconcepts.com.