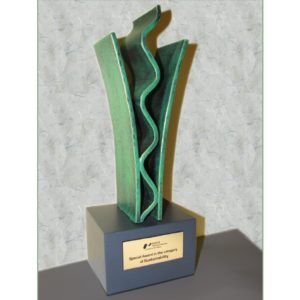 Plymouth, MA, May 4, 2011.  Flexo Concepts took home the FEFCO Sustainability Award from this year's show in Munich for its MicroClean™ anilox cleaning equipment. The technology was recognized for its eco-friendly features including non-hazardous waste stream, non-use of water or chemicals and recyclability of the plastic media.
Best known in the industry for its value in helping high graphics corrugated printers control ink densities and coating weights, the MicroClean System has also earned a reputation for its green benefits. Many plants have adopted this technology for anilox roll cleaning in response to growing legislation mandating a reduction in VOC use.
According to Dave Burgess, VP of Sales for Flexo Concepts, "Corrugated boxmakers, like all printers, are under pressure to reduce their carbon footprint.  Yet, until recently, hand cleaning with high pH solvents was the best option for cleaning."
High-board line presses with quick-change anilox capabilities have made off-line cleaning a viable option, however. With the new press design, rolls are more easily removed and can be cleaned off-line to reduce downtime. "The market has embraced MicroClean," continued Burgess. "It not only helps plant managers maintain ink densities, but in a way that eliminates VOCs and disposal concerns. We are happy to be able to meet the needs of our corrugated customers on multiple levels."
Instead of using harsh solvents or even water like many other methods, MicroClean is a mechanical cleaning process that uses plastic media particles to remove ink and coating deposits from the anilox engraving. Throughout the cleaning cycle, the machine separates the reusable particles from the spent media and circulates them back through the system. The waste stream is non-hazardous and does not require special handling or disposal.
In addition to operating without water or chemicals, MicroClean has no energy requirements when not running unlike some off-line cleaning systems. The cleaning process is entirely contained within the cabinet and the area around the machine remains dust-free during and after use.
There are currently 14 machines in operation in corrugated plants in the U.S., two in Europe and one in Australasia. To learn more about the benefits of MicroClean for corrugated applications, visit www.micro-clean.com or call 1.508.830.9506.
About Flexo Concepts
Headquartered in Plymouth, Massachusetts, Flexo Concepts manufactures TruPoint® doctor blades and wash-up blades and MicroClean™ dry media anilox cleaning systems.  All products are designed to improve print quality and reduce operational costs for flexographic and offset printers.  Flexo Concepts maintains distribution locations in North America, South America, Europe, Asia, Africa and Australia.  For more information about the company and its products visit https://www.flexoconcepts.com/.  For regular updates, follow Flexo Concepts on Facebook and Twitter.