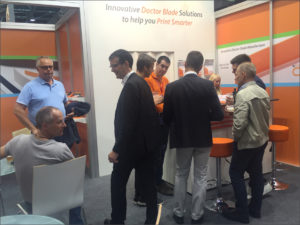 Plymouth, MA, July 15, 2016. Flexo Concepts exceeded its objectives at Drupa 2016, successfully introducing a variety of new MicroTip options on its TruPoint Orange doctor blade and expanding its distribution network.
Since introducing Orange in 2013, Flexo Concepts has developed new MicroTips to help printers optimize metering effectiveness and maximize blade life in their specific applications. At the show, booth staff fielded many requests for blade trials from people eager to test the new technology.
Herb Cole, the company's global sales manager, said, "It's clear to see that our industry is adapting to the demands of today's customer. We are firmly committed to innovating safer, high performance, longer lasting doctor blades to meet those needs." He went on to say that Flexo Concepts is excited to introduce new blade technology to the corrugated sector later this year.
The company was also able to expand its distribution network at the event. "There are too many flourishing partnerships to list, but I am pleased to announce our new relationship with Academia in India," said Cole. "Academia will help us expand our global footprint in a vital market, as we continue to build a solid network of internal and external expert doctor blade consultants."
Orange has earned the support of a number of well-known OEMs and was featured on multiple presses throughout the show. Among these exhibitors were AB Graphic International, Cartes Label Machines S.r.l., Focus Label Machinery Ltd. and Grafisk Maskinfabrik.
To learn more about Flexo Concepts, the TruPoint Orange doctor blade or MicroTip technology, visit www.flexoconcepts.com. To access a complete press kit, go to www.flexoconcepts.com/media/.
About Flexo Concepts
Headquartered in Plymouth, Massachusetts, Flexo Concepts manufactures TruPoint® doctor blades and wash-up blades and MicroClean™ dry media anilox cleaning systems. All products are designed to improve print quality and reduce operational costs for flexographic and offset printers. Flexo Concepts maintains distribution locations in North America, South America, Europe, Asia, Africa and Australia. For more information about the company and its products visit www.flexoconcepts.com. For regular updates, follow Flexo Concepts on Facebook and Twitter.