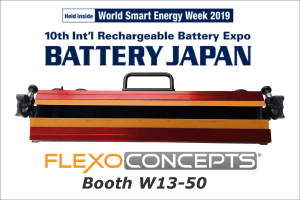 Plymouth, MA, February 13, 2019. Flexo Concepts will promote the benefits of its TruPoint doctor blades as an exhibitor at the Battery Japan trade event on February 27-March 1, 2019 in Tokyo.
TruPoint Orange® and TruPoint Keon® are high-precision metering blades that can be used to apply a layer of coating to the separator film in the manufacture of lithium-ion batteries. In this application, exact lay-down of coating is required to improve the mechanical properties and thermal stability of the separator film, facilitating the charge and discharge of the battery while preventing short-circuiting.
TruPoint blades are made from materials that are stiff, durable and highly resistant to heat and abrasive chemicals which make them excellent blade choices in this application. Since its introduction in 2013, TruPoint Orange has become a leading product in many flexographic printing and other specialty coating markets. TruPoint Keon was created specifically for the battery market and received a lot of interest at last year's China International Battery Show where it made its debut.
For more information or to obtain a mini-blade sample, visit Flexo Concepts' booth W13-50 at the show. The company's Asian Key Account Manager, Steve Kao, will be available to explain the advantages of using TruPoint products in ensuring the proper function of lithium-ion batteries.
To learn more about TruPoint blades, go to www.flexoconcepts.com. A press kit can be downloaded at www.flexoconcepts.com/media.
 About Flexo Concepts
Established in 1988 and headquartered in Plymouth, Massachusetts, Flexo Concepts manufactures TruPoint doctor blades and MicroClean™ dry media anilox cleaning systems.  All products are designed to improve print quality and reduce operational costs for flexographic and offset printers.  Flexo Concepts maintains distribution locations in North America, South America, Europe, Asia, Africa and Australia.  For more information about the company and its products visit www.flexoconcepts.com.  For regular updates, follow Flexo Concepts on Facebook and Twitter.